Love Your Seniors
MAG
May 31, 2011
As freshmen, we don't really know anything. If you have an sibling who's an upperclassman, maybe you'll know a few teachers' names, but no one can really prepare you for high school.
People love to scare freshmen. When we were graduating from the eighth grade, the older kids told us all sorts of scary stories.

"You have to do whatever the seniors say. You'd better not make them mad." "Spanish class isn't so bad. It's the one class you won't have homework in." "Oh, you have class way over there before lunch? Well, if you run, there might be some food left by the time you get to the cafe." "Don't think you can escape upperclassmen."

We were torn between being thrilled and being scared sick. Apparently the seniors would be the main source of our problems, according to the now-sophomores.

Morgan, Emma, Tanya, Ashly, and I all met outside the school and walked in together that first day, hoping to ward off bands of vicious seniors looking for fresh meat. As Morgan and I bravely headed off to ­Algebra, Royal – a senior – stopped us. We cringed. School hadn't even started. What could he want?

"The freshmen lockers are that way," he said, pointing us in the opposite direction.

"We get lockers?" I asked blankly. Royal nodded, a bemused look on his face.

"The juniors said that only on years when the enrollment is really low do freshmen get lockers," Morgan said, puzzled.

"They were pulling your leg," Royal said gently.

We thanked him and ran to our newfound lockers. Royal was very kind. I was starting to suspect the juniors had been lying about more than just lockers.

As the year wore on, I didn't have much contact with seniors other than those in FFA. Ben was a senior, and he was my good friend, but other than that I didn't see much of them.

Then track season started. I decided, what the heck, I'd try out. At first it was hard, deciding which event to do. I'm not too good at jumping, and I'm too weak to be a good thrower. So I showed up at the long-distance training spot. Oh, no! They were all boys! And most of them were juniors and seniors!

"Sweet, we have a girl," said Dan, a junior. "What do you run?"

"Um-"

"You get two choices," Tanner, also a junior, explained. "The 1500 meters or the 3000."
"Do the 3000." I turned to see Lewis, a senior, standing there. I'd have to run with Lewis! There's no way I could compete!

When the coach showed up, we began our workouts. It soon became apparent that Dan and Tanner were way ahead of me as well as the two freshmen boys. Lewis was in a league of his own, leaving even Dan and Tanner behind. It was crazy.

At our first track meet, I watched in amazement as Emilee won the 100-meter dash, the 200-meter dash, the 400, and both relays. TJ won the 300 hurdles, and Blake won the triple jump, while Jeran pole-vaulted into first and threw his javelin in second place. Wow! Those seniors were great! Yes, they were totally scary – that comes with winning – but I admired them too.

Then our coach said, "Mary, you will love me and you will hate me, but I've signed you up for the 3000 and the 1500."

"Whoa! What? Why didn't I know this ahead of time? I've never trained for the 3000!" She just patted me on the head and said not to worry. She had signed me up because there were no other girls running. So I didn't need to stress.

But how was I going to run that far?

When it was time for the 3000, they put me in with the boys so I wouldn't have to run alone.

"Keep your elbows at 90 degrees," Lewis advised as he passed me. "Stay loose."

I came in last overall – that was expected – and first out of the girls (being the only one), but I found something out. I loved the race, crazy as it seemed.

At our other track meets, I signed up for the 3000. As I ran along, Lewis would show up on the sidelines while he was warming up to give me tips on my form, when to speed up, when to pass.

"Stride out right here, Mary. Make your third lap count," he'd say. "Stay loose. Really work your elbow on the corners."

I really appreciated all he did for me. I appreciated everything all of them did for me. At the end of the year, I spent $31.34 on cards for my seniors. Those juniors had lied. Seniors didn't hate us. They loved us.

And I loved them right back.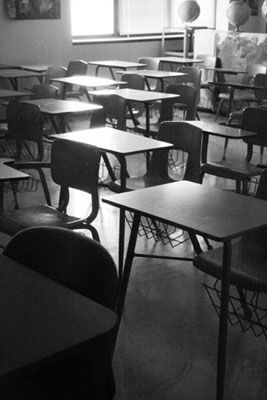 © Sean C., Princeton, IL