The Risk Taker
March 21, 2012
It only takes one mistake. Just one fluke, one mishap, to ruin everything. I could hear Jenna's screams during her practice and raced onto the ice with my soccer cleats, not caring how much damage it would do to the ratty shoes. I see Jenna, sprawled out on the ice, blood seeping out of her ankle. Her coach Nicole is already talking to the police dispatchers, demanding for an ambulance to arrive immediately. The shock is almost too much for me to watch, let alone imagine what Jenna must be feeling.
I run to her, slipping here and there in my stupid cleats on the choppy ice. This was Jenna's home, and now it looked like her funeral chapel. "What happened? Are you alright?"
Nicole looked up to me with extensive emotional pain. "She is losing blood fast. You can see the bone there. Kelsea try and meet the paramedics outside to instruct them where she is. I want them to get here now."
"I can't move my ankle," Jenna whined. Tears streaked down my eyes. In Minnesota, the state of ice hockey and winter sports, there had been so much paralysis in high school athletes I had gotten terrified. Now my twin sister is a victim. I couldn't take my eyes off of her ankle, blood gushing on the frothy ice, praying that this was just a dream, and I would see my beautiful sister skating again, just like every other day.
But before I could wake up from this hideous nightmare the paramedics shouted, proving their arrival, bringing a stretcher into the box. They slipped around like an elephant on rollerblades till they got to Jenna, whose complexion almost matched the ice she had been laying on for the past eight minutes in sheer agony.
"She's not paralyzed, right?"
An older paramedic with graying hair, weird bifocals and a red jumpsuit on was the only one who looked me in the eye, even when they had carted Jenna into the ambulance. "We'll have to do some tests, miss."
"I am coming with her," I announced, hopping in behind him. "I am, after all, her twin sister."
Weeks passed by and Coach Nicole had been lonely, even contemplating quitting. I stopped by two weeks after the accident and she was starring at a picture of her and Jenna winning last year's national freestyle competition in ice skating. Being identical, many mistake us for the other when they don't know us very well. At first, when Nicole saw me, she smiled and got out of her chair, as if being met by a dead friend or seeing a mirage. When she eyed the bag of Jenna's things from her locker, Nicole frowned and sat back down.
"You've got to stop moping," I said.
"How is she doing? Is she still at the hospital?"
"Well, yes, but she is getting much better."
"Can she move her ankle?"
"Not quite yet, but they're working on it."
Nicole shook her head. "It's all my fault. I shouldn't have tested her abilities like that. I have such horrible judgment. Why did I become a coach in the first place?"
I sat down beside her. "Don't second-guess yourself now. You've made one mistake!"
"Yeah, but how bad does that make me? What if my second mistake is getting someone killed?"
"It won't be! Listen, Nicole, you taught Jenna since she was in PeeWee & Squirt's Ice Skating Training. Jenna wouldn't blame anybody, not even herself. It was a fluke, got it? She may not be able to ice skate again, but it isn't because she didn't give up."
Nicole smiled. "I remember how horrible she used to be, back in PeeWee's. Man did she have an attitude! Originally, you were enrolled in the skating class, but after seeing you do it Jenna decided to show you up."
My eyes bulged. "What?"
"Yeah, true story. I remember getting so confused about which was which until Jenna became the whiny perfectionist and you became the know-it-all who really knew nothing about skating. You quit by second grade, and Jenna continued till eleventh." All of a sudden, Nicole's eyes lit up. "Sub-sections is coming up, Kelsea, and Jenna was going to perform for college scouts! If she doesn't improve by now, her only chance at skating college-level will be gone. You've got to do this for her, just this once!"
I eyed her. "Are you sure you aren't doing this just to make your professional career look more promising?"
"Of course not—but it does help. Anyway, you can dance as Jenna, and dedicate it to your twin sister. I swear she'll be in awe of your progress since second grade. You never have to touch a pair of ice skates again. You'll just know in your heart that Jenna would love for you to do this for her. Just this once."
I knew what was at stake, but I also knew the benefits. "Get me some skates, I'm going to need some big ones."
Two months later and the competition is days away. Jenna still has no idea about my skating—not even the twice-a-day practices, weekend warm-ups, or constant exercising to boost my metabolism for the intense routines—and I'm excited to present it to her on the last Monday in March, which is also our birthday.
It's Monday night, the night of the big performance. I look anxiously in front of the curtain to see who is in the stands. I see mom and dad and our little brother Ethan edging Jenna slowly in, herself using crutches for the time being. She's been regularly attending physical therapy sessions and missing quit a heap of school, but she's finally getting her life back on track. I'm still scared she's going to have a paralyzed left ankle to deal with for the rest of her life.
Nicole comes out in skates and announces with a smile, "Good evening ladies and gentleman! Tonight we dedicate this performance to the Bridget twins. Jenna will be skating for you this evening. Here we go!"
My heart beat steadily on my ribs and was as loud as a drum, roaring throughout my entire body with nerves and excitement. The lights were focused on me, pushing the rows and rows of spectators with hundreds of eyes staring at me into darkness. I freeze, allowing the ice to absorb from my broken-in skates through my nylons and into my bones. The ice gave me adrenaline. The music blasted and I could feel my legs moving to the beat. I smiled to the crowd as I endured many spins, twists, leaps and jumps leaving it all on that ice. At the end, I waved to all of those who supported the real Jenna.
When everyone cleared, Jenna hobbled over to me outside. "That was amazing, what you did for me. Who knew under those tomboy looks and annoyed attitude you were secretly a figure skater?"
I couldn't help but smile. Though she had officially lost the use of her left ankle, there was no loss in her sense of humor. She made me realize, from that moment on, that life was precious. Love the life you're given and take risks—because if you make a mistake, you know you're human.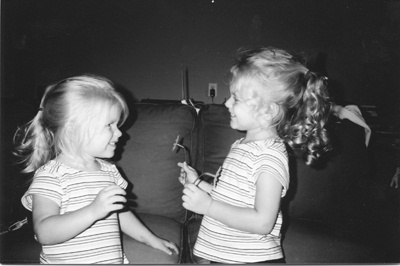 © Elizabeth S., Pompton Plains, NJ