Puerto Vallarta
September 18, 2008
We were soaring now, so high above the clouds, into the cerulean ocean of sky. I peered out the window glimpsing patches of the ground, mostly green with the occasional square of golden yellow. We had reached our destination. The captain of the plane announced our landing in a monotone yet friendly voice. Ten minutes passed. We brushed the ground a few times, the engine slowed, and we landed. We were in Mexico.

The sun warmed my skin as I breathed in the air of a foreign land. Summer was here. Summer, in unison with Mexico, produces the perfect vacation. I could not have been happier…at least not until I reached the beach.

We taxied to our resort and arrived at a large, white, stucco, tropical-looking building filled with hibiscus flowers of bright hues and leafy palm trees. We were greeted by a man dressed in a breezy cotton shirt who had a thick native accent. He quickly ushered us to the front desk, checked us in, and led us to our room. After a brief stroll, we reached our beautiful suite complete with a bedroom furnished with two queen beds and two full baths, a living room, and a small kitchen. The view, however, was what stunned me the most: gorgeous white, sand-laden beaches and blue waves that lapped and played at their edges; the sound of the ocean rolling and curling up onto the shore, leaving moist sand and a few delicate shells on its surface. It took all I had inside of me to resist sprinting into the blue depths.

It was the early afternoon when I made my way onto the beach filled with flashy tourists. I paused before stepping into the sugary, sparkling shore and inhaled the salty aroma of vacation. People's smiles gleamed, or was it the sun? Opportunity taunted me from the cool water. I debated on whether I should wade gracefully or run like I'd never see the ocean again…the latter was much more appeasing. I sprinted down the scalding sand, running so fast I could feel my legs attempt to escape from the rest of my body as they propelled me forward, then SPLOOSH! I hit it and stumbled forward allowing myself to fall gently into the warm, yet chilly, liquid which encompassed every limb, every strand of hair, ever pore on my skin. Mexico and I were going to have a very fine relationship. I broke through the facade of the surf, only to be hit by a determined wave, and made my way back up onto shore to find the rest of my family. I suddenly hear my name. I whipped around, searching faces of strangers until I found myself looking at my little brother about five yards away from me. He waved me over frantically with an eager smile on his face. I jogged over to him, and realized that we were now standing in front of a little beach shack. I moved closer to the hut and surveyed the interior. Rows and rows of intensely colored boogie-boards lined the space. I must have stared for a long time, because an older man with aged skin, courtesy of years of sun exposure, wearing aviators and flowery swim trunks slipped in between me and my glorious view of the beach toys and, chuckling, asked us if we wanted to rent a couple for the day. My brother and I nodded graciously. He handed us each a board: mine was what appeared to be blue and purple, faded from hours of diving, sliding, and surfing on the waves. Before I could blink, my brother was charging toward the water with his newfound glee. I keenly followed his lead. We stretched ourselves across the boards and began to swim out to deeper water. The farther out we stroked, the more the chilly water nipped at our heels. We decided on a spot, and waited. This was the most fun of the renowned experience of boogie-boarding: waiting…simply waiting for the right wave to pick you up on its shoulders only to smoothly and swiftly drive you full force through the shallows up onto the sandy beach. The wave was here. I felt myself being lifted by the secret forces of the ocean and pushed directly towards shore. I sped past people floating and laughing. I shot past children wading on their tip-toes. I glided up onto the wet sand as the wave that had given me the ride receded back into the depths. My brother and I giggled as we swam back out for another go…

The sun had full intentions of setting any time now. The rich golden yellows and deep oranges began to turn into smoldering magentas and ravishing violets. By this time, we had made our way back up to our room to shower the sheer layer of sunscreen and sand off of our skin, and change into something more appropriate for dinner. I was glowing with pure satisfaction of our productive yet sensuous day. Again, we walked across the beach. I let my toes curl and unfurl, feeling the sand sift between them. How could paradise be so simplistic, yet so profound at the same time?

We reached a tastefully decorated deck adorned with multiple sizes of candles and paper lanterns that swayed softly in the balmy evening breeze. We were seated at small round tables sporting plates and bowls with intriguing designs and a centerpiece cascaded with fresh flowers. The menu came. We choose from a variety of decadent entrees and side dishes, soups and salads, all themed to compliment the tropical atmosphere. Our food came shortly, and we ate it almost as quickly as it had come. We viewed the dessert cart, which had a plethora of delectable cakes, puddings, ice creams, and pies displayed so elegantly that I could've eaten them all. Dessert was definitely the icing on the cake, pun most definitely intended.

We sat beneath the cloth canopy as it rippled tenderly in the cool night air and chatted softly about anything and everything and nothing. The gentle silence was accompanied only by the melodic rhythm of the rolling waves, and the brushing of palm leaves against their neighbors'. I thought of the serenity and the peace and felt the natural beauty and the promise of tomorrow as I sat as still as the soft sand, itself. Every person has a time in their life when they are so content that they can feel the bliss building effervescently inside of them, brimming, until finally, that joy overflows into a smile that could light up the world, laughing eyes, and a childish giggle of simplistic delight. This was my time. This was the beginning of my summer. This was Mexico.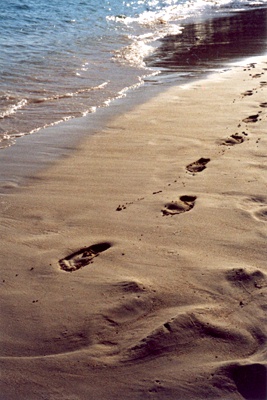 © Anonymous