It Didn't Rain
November 16, 2008
It didn't rain today, I thought on my fourteenth and final day. It always seemed to rain here. We were usually out in the pure, light blue ocean, paddle-boating, or whatever it was called. I remember looking down and seeing, 30 ft below, the ocean floor. Only in Jamaica, I would think. I would look back to the beach and see many exotic colors, and that wasn't just including the clothes some people wore. The plants and trees stood tall, and I never got enough of just staring at them.

It rained once a day, every day, for 13 straight days. Our last day, the fourteenth day, there was no rain. You see, usually, when it rained, it thundered, which was why my mom was usually pedaling like there was no tomorrow to get back on dry land. We had laughed at her for that, but it was a very real concern.

But, there couldn't just be a regular day with a clear blue sky, right? I mean, I was 7. I didn't understand the concept of 'rainy season.' When it rained every day in Jamaica, to me, it rained every, single day. That included winter, spring and fall.

So, as I walked out to the parking lot of the wood cabins we were staying in, which, might I add, gave an especially tropic effect, I wondered where the rain was. Being the little curious kid I was, I looked up.

Nothing I had ever seen in my life had looked so beautiful to me. It was inconceivable. I had learned about cloud-to-cloud lightning before, but never imagined that it could be this phenomenal. I watched at streaks of light danced across the sky, almost graciously. There was no sound to it. All I could hear at that very moment was the sound of cicadas chirping wildly. The night sky in the background gave it an especially eerie effect.

This was better than watching thunder. My brother and I would get elated when we heard the first crack. We would rush to the window and stare in amazement as the thunder cut through the sky. As I stared up at the sky, I had stopped in my tracks, my mouth wide open. I was overjoyed to have seen such a wonderful sight. It would not last forever, though, and I really had to go.

So, I took one last, longing glance at the sky and rushed towards the car and the rest of my family. I could not be happier. It didn't rain today.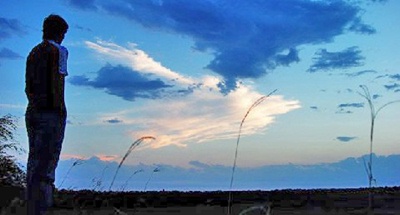 © Stefanie K., Katy, TX