Ernest Hemingway: a classic American novelist
January 7, 2010
Ernest Miller Hemingway is one of the most highly attributed American authors, writing and having published ten novels, ten collections of short stories and three autobiographies. He was born on July 1899 in Oaks Park, Illinois—near Chicago—and died by committing suicide in 1961. He was a war hero, journalist and author. As Hemingway grew older his story writing was put on hold, but once he started writing again he became a highly accredited author whose novels and short stories are still remembered as essential American literature classics that mimicked and were highly influenced by his own life.
Hemingway's lifestyle was a diverse one that delayed his notability as an author. He began this lifestyle as a reporter for a newspaper in his home town in Illinois, where he developed his main writing style (polysyndeton, which is using just about a million conjunctions per sentence and leaving out emotions, not unlike the way articles in a newspaper are written) and most likely where he gained his knack for writing itself. You would think that from there Hemingway would have just kept writing and developing, but after a short time he decided to pointlessly abandon his job at the newspaper to do his part in World War I. He went to Italy and became an ambulance driver to aid those wounded from the war, but in only less than a year he came back to America because he, ironically, was seriously injured. In 1924, two years after returning from Italy, Hemingway finally got back to his well-placed roots and published his first novel, The Sun Also Rises. The book happened to be highly influential to his generation; many women started to wear clothing and a short hairstyle that the character Brett Ashley had in the story, and fiction-writing started leaning towards the polysyndeton style in the years following the publication of it. In 1940 he wrote For Whom the Bell Tolls, another famous one. This book has been referred to many times in modern media; even in songs, such as "For Whom the Bell Tolls" by the Bee Gees, "For Whom the Bell Tolls" by Metallica, and "Losing It" by Rush. And, quite amusingly, it is Senator John McCain's all-time favorite book and President Barack Obama said it is "one of the three books that have inspired me". It must be quite the story to put those two people in agreement. Although the writing of his introductory books were delayed by his apt career choices, they eventually established him officially as a notable author in his time and his credibility only grew from then on.

Like I mentioned, many of Hemingway's novels are established American classics. The three main ones are—like before—For Whom the Bell Tolls and The Sun Also Rises, and also one called The Old Man and the Sea. The Sun Also Rises, his first novel, is about a group of expatriate Americans living in Paris in the twenties. It gave an understandable and clear insider's look at the post-war generation for other generations. Since he himself was an expatriate, I think anybody can easily assume that the story has quite a bit of accuracy to it. The Sun Also Rises received the honor of being one of Time Magazine's 100 Best English-Language Novels from 1923 to 2005 and is typically considered Hemingway's best work of fiction. The next novel listed, For Whom the Bell Tolls, tells the story of soldiers in the Spanish Civil War: their love, their war, their hate, their triumph. The story was likely based on Hemingway's own firsthand journalistic experience while he was in the midst of it for the North American Newspaper Alliance (NANA). It became a Book-of-the-month choice and Hemingway caught his break—it sold half a million copies in less than two months. Following that, it was nominated for a Pulitzer Prize and as a result Hemingway noted it as a "literary triumph". He was likely very proud of that accomplishment, after putting in so many long years of hard work to achieve something like it. And lastly, The Old Man and the Sea. The Old Man and the Sea was Hemingway's last novel ever to be published while he was alive and easily his greatest success. It told the story of an old, master fisherman in Cuba and his battle with the largest catch of his life: a giant marlin. No doubt due to Hemingway's "amazing author" reputation, when The Old Man and the Sea was featured on the cover of Life magazine in 1952, it sold a whopping five million copies in two days. When it became a Book-of-the-month selection shortly after, it was official; Hemingway had become an international celebrity. After that, the elite awards just started showering down on him. It won the Pulitzer Prize in 1952, the Award of Merit Medal for the Novel by the American Academy of Arts and Letters also in 1952, and the Nobel Prize in Literature in 1954. Most authors wouldn't dream of getting even one of these awards, and Hemingway received all three! What an amazing achievement. Overall, his novels gained him more and more recognition as the years wore on, each novel sort of sailing on the last ones' hype. I don't really believe that any of those books would have been so successful without the other ones. And they all are amazing classics. Each one gives such a pure and realistic view of whatever portraits Hemingway so cleverly paints with his words. He is truly a remarkable author.

Hemingway also had quite the interesting life, which one could certainly perceive through his writing. He based so many pieces of his stories off of his life; it's hard to credit him for any originality in his writing at all! For example, when Hemingway was in Italy for World War I, he was an ambulance driver (like Frederic Henry in A Farewell To Arms), fell in love with an older woman who was his nurse there (not unlike Frederic falling in love with his nurse, Catherine Barkley), and his wife had a difficult labor while delivering their son, Patrick (like in the end of the story when Catherine delivers a stillborn baby, then dies). Also, it seems to me like any place that Hemingway lived he had to write about. A Farewell To Arms, set in Italy, came during and after he lived in Italy, The Sun Also Rises, set in Paris and centered around a group of expatriates, came during he lived in Paris and hung out with a group of expatriates like himself, and For Whom the Bell Tolls, set in Cuba, came while he lived in Cabana, Cuba. These are only a few of the striking similarities Hemingway's books have with his life. Read any basic Ernest Hemingway biography and you'll be taken aback by how his books completely paralleled his life. Maybe that's why he could describe the situations so well in his stories; they were hardly fiction at all, merely tweaked reports of actual events. Either way, his books were good, so clearly his life was too.

All in all, I find Ernest Hemingway one of the most promising classic novelists of all time. He wasn't the complete and utter stereotypical artist like so many other authors were; he lived his life like a normal guy would, worked as a reporter, and the books sort of came after. And what successful books they were. Hemingway eventually gained huge recognition and raked in award after award. His revolutionary techniques, clear, emotion-free visuals, and sheer celebrity in his time were so remarkable that we still remember him as a fundamental classic literature author today. You have not read American classic until you've read an Ernest Hemingway novel.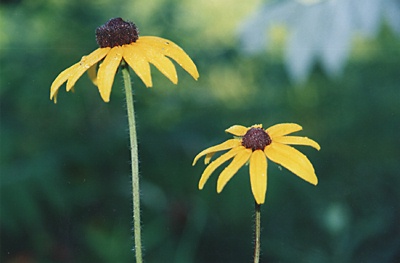 © Allison S., Eau Claire, WI