AP Classes
MAG
Many students are feeling intense pressure due to the difficult AP classes we are told we must take to get into the best colleges. The AP system, however, should not even exist - tough college courses should be taken in college, not before.

The most significant disadvantage of AP courses is the stress they cause. I am taking three and have hours of homework every night. I work extremely hard yet often worry that I am not meeting expectations. It is not just me who feels this way. Another student remarked, "My life revolves around my schoolwork. It is always on my mind, I can't relax."AP students often are so swamped with work that they miss important parts of the high school experience like getting a job or hanging out with friends.

It may seem as though students have a choice, that nobody forces us to take so many AP classes, but the truth is, we're pressured into it by colleges, teachers, and parents. Adolescence should not be filled with so much pressure; kids need time for fun.

Those in favor of the AP system say that these courses prepare students for college, plus save time and money. But what is the rush? Entering college with an entire year's worth of credits already completed may save tuition dollars, but it may shorten the college experience. Early graduation allows students to get started with their careers as soon as possible, but there is no reason to hurry to accomplish all this. We have the rest of our lives to work; we should enjoy our childhood for as long as possible.

The most competitive colleges accept students who have challenged themselves with AP classes. According to CollegeBoard.com, these give you "a head start on college-level work" and "show your willingness to push yourself to the limit." But is that really necessary? If colleges did not admit students based on their AP courses, students wouldn't feel compelled to take them and the need to push themselves beyond their limits. It would not make us lazy, just more relaxed. Teenagers already have enough stress trying to fit in socially, dealing with family, and experiencing physical and emotional changes. Why add the stress of college-level work?

The AP exam at the end of each course is yet another source of stress. Long and difficult, these tests are more important than all of the work done for the class. A score of a four or five can mean getting into a dream college, while a two or a three can mean that a student worked hard all year for nothing. The fact that many end up taking one or more AP exams around the same time as the SAT does not help. There is no reason to make one test so significant.

It seems as though every decision a student makes during high school will affect their college admissions and future life. Students often join clubs because of how good they will look on their applications and overload themselves with difficult AP courses for the same reason. The high school and college experience should not be one and the same, there ought to be a clear distinction. AP courses combine the two, preventing students from enjoying high school while they are in high school and experiencing college when they are accepted.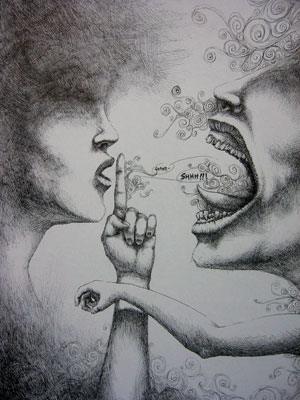 © Anonymous