Same Sex Marriage
June 29, 2010
Same Sex Marriage is a prevalent controversy in the United States. Traditionally, in the United States marriage has been illustrated as a religious and legal commitment between a man and women. However, homosexual relationships are present in the United States. Homosexuals are gradually gaining approval in the United States, but they were denied the basic right to marry. Youth, young adults, democrats, religious liberals/progressives, secularists, and most of the northeast are for Same Sex Marriages. The elderly, republicans, conservatives, and about half of the west coast and everywhere but northeast are against Same Sex Marriages. For the November 4, 2008 election, the state of California had a huge debate over Proposition 8. Proposition 8 eliminates the right of Same Sex Marriages. A yes vote on this proposition meant that the California Constitution will indicate that only marriage between a man and a women is legal in California. A no vote on this proposition meant that Marriage between two people of the same gender will continue to be allowed in California. Even though some people do not like the idea of Same Sex Marriages, I believe that citizens of the United States each deserve the same human rights.
Denying Same Sex Marriages is a violation of religious freedom. I believe in free will and the choice to do what you want to do as long as it dosen't hurt anyone. Violating religious freedom to a certain group just because some religions consider it a sin is not right. The first amendment to the Constitution plainly states that, "Congress shall make no law respecting an establishment of religion, or prohibiting the free exercise thereof…" The government should not make laws against a certain group just because certain religions do not approve.
Denying Homosexuals to marry is a form of minority discrimination. The main reason why we have the Bill of Rights, anti slavery laws and equal protection amendments is to protect minority groups from any form of discrimination. What is the difference between denying two African Americans or Latinos the ability to marry? Homosexuals are a minority group and denying them marriage goes against everything America has worked so hard to build.
Child adoptions will tremendously increase if homosexuals are permitted to marry. Homosexuals are unable to pro-create. That means if they want to have children and obvious option would be adoption. The national statistics released by the Children's Bureau of the Department of Health and Human Services showed that in the fiscal year 2002 an estimated 126,000 foster children nationwide were waiting and ready to be adopted, but less than half were actually adopted. Permitting Homosexuals to marry can split that number again, and give hope to the children waiting in foster care.
In conclusion, homosexual couples should have the same human rights that heterosexual couples have and enjoy. Marriage is between two people. So society should not be dictating whether or not it is appropriate. Marriage should be based solely on love and if two homosexuals fall in love and wish to marry then they should have that right. Same Sex Marriages do not hurt the society in any way and it also encourages people to have strong family. Gay couples should have the right to legally marry.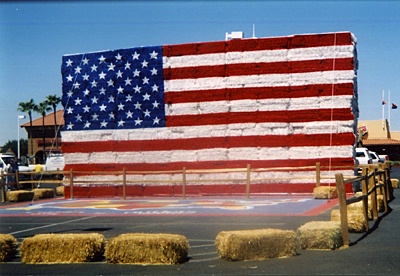 © Mary S., Grand Canyon, AZ