Same Sex Marriage Legal in NJ: Why it Should Be Legal at the Federal Level
August 12, 2014
When you were a little kid, about 4 or 5 years old, you may have played "house". What you were playing typically mirrored the stereotypically "perfect" American family like in one of those 1950s ads. There was a son or daughter, some weird kid pretending to be the family dog, and there was a Mommy and Daddy. Mommy and Daddy were always married. Wedding barbie was one of your favorites and half of your conversations in the car ride home from preschool would be "Tommy is my boyfriend and one day we will get married" or "when I get married I will have a big chocolate cake and I'm going to wear a big sparkly dress". Now imagine growing up and finding that person you love, the person you want to share a bid chocolate cake with, wear a sparkly dress with, and one day play house with in real life. However, the law tells you that you cannot get married because your favorite human being in the entire world happens to be the same sex as you. You have to settle for a civil union or nothing at all. Either way, you can't marry who you love. Well, now as of October 21, 2013, in New Jersey you can. Although "The administration of Gov. Chris Christie appealed and asked for a delay in the implementation date[, t]he state Supreme Court said unanimously...that it would not delay the start of the nuptials. They began [that monumental] Monday, and hours later, a Christie spokesman said the appeal would be dropped. The state [of New Jersey] is the 14th in the country to recognize same-sex marriage" (Geoff Mulvihill for the Huffington Post).

Same-sex marriage has always been an unfortunately controversial topic in the world and among individual states in the U.S.. This is because it takes into account many of our modern society's hypocrisies, among which are the church, the state, morality, who gets to define marriage, and basic human rights now opposed to fifty years ago. In New Jersey, before same-sex marriage was legalized it was a rollarcoaster ride all the way trough. Let me give you a quick timeline of the most important events regarding same-sex marriage in New Jersey from NJ.com. "Jan. 12, 2004: Gov. Jim McGreevey signs the Domestic Partnership Act." A domestic partnership is similar to a civil union, which was supposed to give same-sex couples similar rights to heterosexual couples without using the "m word" and also without many important rights which I will get to later. "Dec. 14, 2006: Lawmakers make New Jersey the third state in the nation to allow gay couples to form civil unions. Jan. 9, 2010: The state Senate votes down a bill to legalize same-sex marriage. June 26, 2013: The U.S. Supreme Court strikes down the Defense of Marriage Act, granting gay married couples the same federal benefits as heterosexual couples. Those benefits don't apply to civil unions. Sept. 27, 2013: Citing the U.S. Supreme Court decision, Superior Court Judge Mary Jacobson says same-sex marriage should be legal and orders the state to begin allowing gay weddings Oct. 21. The Christie administration later asks the date be delayed pending its appeal. Oct. 18, 2013: The Supreme Court, which had scheduled arguments on the same-sex marriage case for early January, rules gay weddings can begin on Oct. 21. [and finally on] Oct. 21, 2013: As same sex weddings are held across the state, the Christie administration drops its legal challenge to gay marriage. It means the lower-court ruling allowing gay couples to marry in New Jersey stands as the law." As of today, 17 states have legalized same sex marriage, 6 states have civil unions or domestic partnerships, and 33 have banned same-sex marriage.

Now here's what we should do: Our country should legalize same sex marriage! New Jersey and the 16 other states where it is legal should just be the beginning. It would be so much more beneficial to us to just extend to these people the basic human right to marry whomever they love. I'm not even going to go into the religious morality argument because we have a separation between church and state, so someone else's right to love going against your own personal beliefs are an invalid argument which is just contributing to the repression and discrimination of a group of people. I'm talking about how #1) in "Massachusetts, which became the first state to legalize gay marriage on May 17, 2004... [They] had the lowest divorce rate in the country in 2008. Its divorce rate declined 21% between 2003 and 2008." (ProCon.org) 2) "Gay marriages can bring financial gain to state and local governments. Revenue from gay marriage comes from marriage licenses, higher income taxes (the so-called "marriage penalty"), and decreases in costs for state benefit programs. The Comptroller for New York City found that legalizing gay marriage would bring $142 million to the city's economy and $184 million to the state's economy over three years." And lastly 3) If you try to argue that "reason for marriage is strictly reproduction, infertile couples would not be allowed to marry. Ability or desire to create offspring has never been a qualification for marriage. George Washington, often referred to as "the Father of Our Country," did not have children with his wife...and neither did four other married US presidents have children with their wives. " (ProCon.org)

Now I'm going to flat out tell you why you should care. Whether you are a member of the LGBTQ community or heterosexual, I implore you to applaud same-sex marriage legalization in New Jersey as not just a victory for gay rights but a victory for human rights. If I have not convinced you already, here are just a few limitations of civil unions, opposed to civil marriages. "If you are married, you can get divorced in any state in which you are a resident, provided that state recognizes the marriages of same-sex couples. But if states continue to disrespect civil unions, there is no way to end the relationship other than by establishing residency in a state that respects the civil union. According to a 1997 GAO report, civil marriage brings with it at least 1,138 legal protections and responsibilities from the federal government, including the right to take leave from work to care for a family member, the right to sponsor a spouse for immigration purposes, and Social Security survivor benefits that can make a difference between old age in poverty and old age in security. Civil unions bring few (if any) of these critical legal protections. Because the federal government does not respect civil unions, a couple with a civil union will be in a kind of limbo with regard to governmental functions performed by both state and federal governments, such as taxation, pension protections, provision of insurance for families, and means-tested programs like Medicaid." (Civil Marriage vs. Civil Unions: What's the difference?, GLAD) What if you could not visit your sick partner, in critical condition, in the hospital because the law told you that you can not? How many mirrors do we have to hold up to the legalization of interracial marriage before we see that we should not even have to legalize love? How long will we have to repeat "all men are created equal" before we finally mean it?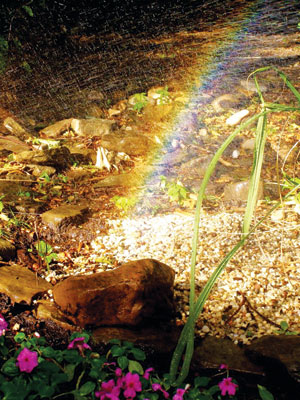 © Kristine B., Setauket, NY