Gay and Trans Panic Still Exist, Unfortunately
May 13, 2019
When the Supreme Court legalised same-sex marriage back in 2015, it seemed like the LGBTQ+ community finally got what they've always sought for.
To be treated as equal citizens.
That's how it looked from the outside. I was guilty of that, too. Ever since then, that has been proven wrong on several occasions. The one that got the most press coverage was the Pulse nightclub shooting. At that moment, I realised that the fight for equality is far from over.

Recently, that was only further proven after one of my best friends (who happens to be bisexual) discovered gay and transgender panic. In simple terms, it means that a defendant in a courtroom can use the shock of unwanted homosexual advances or the discovery of someone's birth gender as a justification to commute their sentence‍‍. This is primarily used in assault and murder cases. When my friend revealed this, all of the girls online were absolutely livid, including me. I'm personally used to not judging someone using anything but their personality and heart. Reading how people have used someone's identification to somehow justify their clearly illegal actions was just sickening to me. The most baffling part for me was how on Earth this law was constitutional. My logic was that if someone is assaulting you, self defense is totally called for and legal but being the perpetrator over how someone defines themselves? I couldn't accept that.

Disgusted, I went online to research this further and what I found shocked me. Unless you live in California, Illinois or Rhode Island, this is perfectly legal. Even in some of the most diverse, accepting and solidly democratic of states. Usually, an issue like this will make people energised and lawmakers will be demanding this law be repealed. Of course, after the 2016 election, we've been so focused on the person in the Oval Office instead of other issues. I understand why. It's important to call out our president and to track all of his scandals. However, if we don't think about that and look at this issue, I strongly believe that gay and trans panic should be banned and there are several reasons why.

Firstly, if we dissect gay panic to it's true definition, it's basically sexual assault. The only difference is that it's same sex sexual assault. You've never heard of women killing their heterosexual harasser. With the rise of the #MeToo and #TimesUp movements along with all the other equivalents around the world, you would think that gay and transgender panic would become less tolerable because heterosexual assault is being called out. Unfortunately, this issue is been swept under the rug. The use of this legal defense is rare, however. If it is barely used, why shouldn't we just ban it all together?

Making sure that sexual assault survivors get the justice they deserve is important, and rather than using unwanted advances as justification for murder, we can put the harasser to justice and the victim can live their life. If the victim decides to kill the harasser, murder is murder and two wrongs don't make a right.

Survivors of same-sex assault are real people with horrifying stories, and their voices need to be heard to fix the devastating sexual harassment problem in our society. Rather than providing cover for murder, we should punish those who cross the line. If someone can't kill their heterosexual harasser and get cover for it, why should it be the case in same sex cases?

Second of all, the use of this defense hurts the LGBT community, especially youth.
"I feel sad, and I felt betrayed." Kathryn Gonzales, a transgender advocate in Austin, told NBC in May. "I have to talk to 12 to 23 year old LGBT kids… and I have to sit with them in their fear and their terror and their feeling that they had been let down. They feel that they are not as safe here as we would like to believe."
Gonzales was referring to the murder of Daniel Spencer by his neighbor, James Miller. Rather than the typical sentence for a heinous crime like this, he was given 10 years probation, six months behind bars, 100 hours of community service and a $11,000 fine. That is severely reduced, over what? Some outdated, homophobic and transphobic legal defense that somehow, someway, is legitimate?!

This is especially frightening for gay men as this defense hasn't been used for a woman to woman case. It is discriminatory towards the LGBT community and quite frankly, it is unnecessary and outdated.

Lastly, the existence of this defense hinders the progress we have made in terms of making LGBT people feel like equal citizens. CNN created a timeline of milestones for LGBTQ rights from 1926 when the first gay rights organization was created to Jared Polis (D-CO) being elected governor. Gay and trans rights have certainly come a long way and for this defense to still be used is preventing us from moving forward. It's like when you have your report card and you didn't get a good grade on a project but you never corrected it. You could, and it would raise your grade, but you just don't. It erases the good work you had done on other projects. The only way to move forward is to right all previous wrongs, and gay and trans panic is one of them.

In conclusion, gay and trans panic should absolutely be banned. First of all, it makes absolutely no sense since you never hear about women killing their sexual abuser and receiving cover for it. Second of all, it hurts the LGBT community. Lastly, it prevents us on moving forward. When it comes to social issues, we just want to move forward, progress as a society and become better people living in a better world. Something like this might seem small, but it's still a step. And you need to take every step of the staircase to get to the next floor.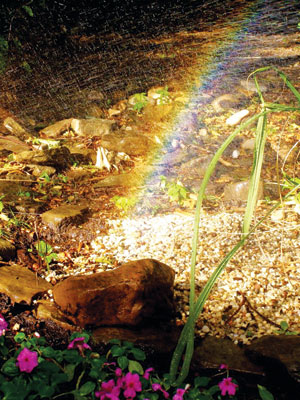 © Kristine B., Setauket, NY