Miley Cyrus: The Not So Innocent Teen
October 28, 2009
For years, we've seen respected and well-known celebrities crack under pressure and turn to drugs and alcohol to make them feel better. It wasn't a big shock when Britney Spears and Lindsey Lohan both fell into states of no return and watching Shakira's and Lady Gaga's music videos get racier weren't unexpected either. But no one could predict that Miley Cyrus would soon follow.

Miley Cyrus started in the business with her popular kids show, Hannah Montana. She took up singing and used her show to publicize her voice. Miley has been a role model for many young kids of various ages. They are devoted to watch her show every week, buy all her lasts albums, and watch her music videos so they can dance along. It seemed as though Ms. Cyrus liked performing for the younger crowd; and everything was always made child-appropriate, until now.

Miley's new hit single has a great beat, catchy words, and is easy to dance to. But that's where all the good ends. Looking at the cover of the CD case, you are confused as to why she is posed the way she is. Thinking back to her other covers, you realize that she usually just sits or sings while smiling at the camera. But now that she's older, it seems as though that's too simple for Ms. Cyrus. On her new cover, Miley is posed with her hand on her hip that is sticking out, her hair covering half of her face; and she's looks as if she's trying to look sexy. Though this isn't that bad nor is it that obvious if you were to just glance at it. When you see her music video, you realize that Miley Cyrus is no longer the sweet and innocent girl who appears on TVs across the United States.
The music video for Party in the U.S.A. takes place in a parking lot, at a playground, and on a stage. In the parking lot, Miley gets out of her car; and you notice that she is not dressed appropriately. She sports a brown tank top with her push-up bra sticking out of the top, jeans shorts, a studded belt, and an open black vest. Throughout the video, her backup dancers, as well as herself, are dressed tastelessly. The backup dancers wear shirts revealing their midriffs, shorts that are way too short, small tank tops, and bra-like shirts. It doesn't seem that bad until you remember that Miley is a role model for young kids, not teenagers who dress like that.
The dancing is a major indicator that Miley Cyrus is no longer aiming to please a young audience. Throughout the entire video, she is leaning against walls and cars with 'attitude' and is constantly running her hands through her hair to get the 'just out of bed' look. While in the playground setting, Miley is on a swing while backup dancers pole dance. Children play at the park everyday; and if they see that kind of dancing, they will want to imitate it; and they wouldn't even know that what they were doing was wrong. Some other badly chosen dance moves include the shaking of the hips in a tasteless manner, 'dropping low' as they now call it, and some brief grinding.
All of the things that happen in this music video shows that Miley is no longer aiming to please children and that parents of young kids should make sure that her music and videos are appropriate before their children listen/watch it. Who knows what she'll do next? Miley Cyrus is slowly working her way to becoming the next Britney Spears.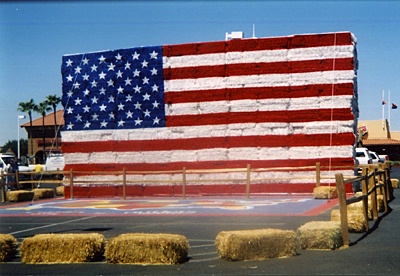 © Mary S., Grand Canyon, AZ