I Can Think For Myself
May 24, 2010
I like the Jonas Brothers. Sue me. But I didn't like them after Hannah Montana "Me and Mr. Jonas and Mr. Jonas and Mr.Jonas"; I liked them when "Mandy" and "Poor Unfortunate Souls" were popular. I liked them back in 2006 and I thought they were the hottest things around; Little did I know, no one had ever heard of them. It wasn't until about a year ago I realized they only became popular after their guest spot on Hannah Montana (which looking back on it, was absolutely horrible). But, oh, well, I liked them and still do because I can think for myself.

I don't like Miley Cyrus. Sue me. I liked her back when Hannah Montana was new, and I even liked her after the whole Vanity Fair scandal, because I really thought she had learned from it. But I know better now. I don't like her because she pole dances and lap dances and poses half-nude (no, I don't mean in Vanity Fair, I mean for her own personal pics that she posts online; don't believe me? Google her); but the main reason I don't like her is because, while doing all this trash, she still claims to be a Christian and will thank God and Jesus for what she's doing; if she believes God and Jesus are proud of her, she really needs to start reading her Bible. I don't like her, because I can think for myself.

I like Demi Lovato. Sue me. I like her because she's a singer that (for once) has a real voice; she sings about more than just falling in love and breaking up, she sings about fighting for love. I also think she is a good actress; she can play heartbroken and perky and guilty quite well. She seems to be an honest person and has worked through major issues (like being bullied into being homeschooled and having her father leave when she was quite young). I like Demi Lovato because I can think for myself.

I don't like Taylor Swift. Sue me. Her career is wasted on guys and, while she says she doesn't always have to have a boyfriend, her music tells me otherwise. And it's not that it's just about guys, it's the fact that it's always "love me or I'll hate you" type of music, with little in-between. She's always the victim in relationships and when it's a popular break-up, she spends over a year ranting on about how horrible her bf was. I think it's pathetic. I don't like her, because I can think for myself.

When it comes to celebrities, I like who I like and don't like who I don't like because I have my own mind and can think for myself; I don't like the Jonas Brothers because they're popular, I like them because they have good music, they haven't been in the tabloids for doing something wrong and they seem like naturally good guys, who don't put on a front. I don't not like Miley Cyrus because the majority hates her, I don't like her because she makes bad decisions and refuses to learn from them.

I have my own mind and I think for myself.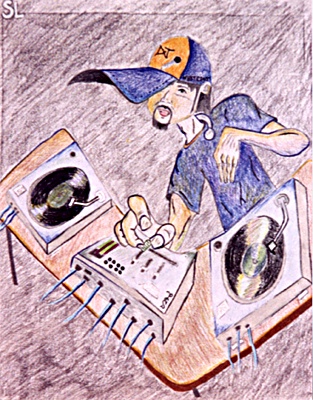 © Samuel L., Tracy, CA