To Be
June 10, 2011
There, sat a boy. It was a first for me. I went to an all girls school, with nothing to do with men, not even teachers. There was no Mr.Hanson, or Mr. Jones. No way.
I realized I was starring. He was looking at me like I was crazy, and other people were whispering about me to their friends. My face turned beet red. I sat down silently at my desk and picked up my book. I heard giggles in the background and I knew they were looking at me. Suddenly, a thought occurred.
Turning to the boy, I tap his shoulder. He turns and looks at me. "I'm sorry for starring, but your the first boy I've ever met at school." I say loud and clear. Smiling, even with people staring at me wide eyed, I turn back to my book...
So why are genders so awkward with each other? Think about it. It starts with cooties, and then evolves into if you can' be friends with a boy, and then finally gets to a point where If a boy asks you out, you're officially a "thing". What's up with that? Girls are girls, and boys are boys. Who cares? I don't. Just because we look different, doesn't mean we really are. You get it? All I'm saying is that people are the same and can do whatever they want together. Plain and simple. Non awkward.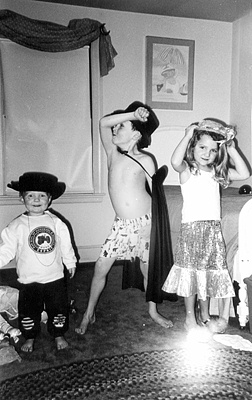 © Courtney M.,Marblehead, MA