And now for something completely different sounding
October 19, 2009
How easy is it to miss the old days? The days when rock music of any sub-genre was its own sect that was subject to only be heard by those who knew it locally? Personally, it's that way for me, but I digress. I grew up in the wrong time period, and the right one at the same time. In the age of Guitar Hero, Rock Band, and the glory that is the Internet, music is a wider spread industry, and yet no one seems to want to give its lesser known genre's a try.
What genre may I have to speak of? Math Rock.
No, wait; it's not what you think! This is probably something your Pre-Calculus teacher wouldn't listen to in a thousand years, had she the choice. Math Rock is a rhythmically complex style of experimental that at some times can sound brutally thrashing, and then randomly switch to a jazz-like melody, or even just a calm. It erupted in the Midwest in the late 80's and is one of the few scenes that remains underground, the general reception of it by new listeners is usually a combination of 'Is the guitarist just jamming?', 'This drummer is intense', 'Why are there no vocals?' or something else that one is not used to saying.
To put Math Rock in perspective, the guitarists and drummers are the biggest focus of the genre, whereas in most rock, a la Green Day, Coldplay, Chevelle, or Weezer, focus on their lyrics and their meaning. Math Rock focuses more on instrumentation, and skill of the musician; the guitarist and bassist carries the melodies, then at points the bassist will fall back and the drummer will stick out in the harder, almost breakdown type sections, to accompany the rhythms of the guitarists many chords, 'tapping', or overt use of his distortion pedal. Lyrics are not totally absent in Math Rock, however they are not the main focus, and many groups, such as Don Caballero or Hella decide to wave lyrics altogether, save a few songs for experimentation. Some artists, however, do have lyrics present; Cinemechanica and Tera Melos have punk-inspired lyrics, and other bands of the genre like This Town Needs Guns have a more melodic approach to their lyrics.
Still in need of inspiration? Bands like Mute Math, Tool, The Fall of Troy, and Protest The Hero are bands that have roots and elements from the Math Rock genre. So next your on iTunes (Because we all download legally, right?), take a look at some of the bands listed above. Also look at their labels, as they will lead you to more bands of the genre as well.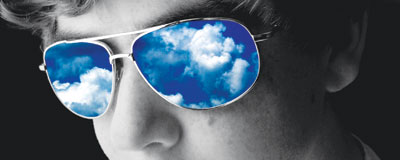 © Joseph B., Mesquite, TX