The Evolution Of Hip Hop
January 17, 2013
In the 1970s Hip Hop was just mixed beats and words that hyped up the crowed at the local block parties, it was made of 4 main articles MCing/rapping, DJing/scratching, breakdancing, and graffiti writing. Now it is barely any of those things, people don't break dance or MC anymore. When DJ Kool Herc introduced Hip Hop to the African American community he had no idea what he was creating.DJ Kool Herc, the creater of Hip Hop, made history.
People often think the Hip Hop itself is just a bunch of nonsense, but in the 1970-1990s, (when rap was good) it was pure entertainment and knowledge. Popular rappers of those times would say things that would inspire and awaken people in their time of darkness. Their music would help people "Get up get out and do something.", words of Outkast, another famous and educated rap group from the 1990s which consisted of Andre 3000 and Big Boi. When riots and violence were everywhere people needed the words of Run D.M.C, KRS one, Snoop Dogg, and LLCoolJ to educate direct, entertain and inspire them to do better. "Instead of picking up our women, ready to mistreat them, you better get yourself a wife and kid and never leave them." the lyrics from one KRS one's songs, another very educated rapper that educated and entertained. He used his words to try and influence young men to have children with the one they love and to use their minds. In those times they didn't just try to force education into your ears they wanted to entertain as well and they were successful with their efforts. "Unemployment at a record high. People coming, people going, people born to die." Run D.M.C. raps about the hard times.
Rappers now don't rap about the economy or the streets of where they come from, they don't try to inspire their listeners to go to school to get an education. They convince their listeners to have one night stands, to use profanity,to use violence and to use drugs. In 2012 Rick Ross was named the "Hottest" MC of the year. Rick ross, real name William Leonard Roberts II, grew up in Carol city, Florida. His rapper name comes from a drug trafficker "Freeway" Rick Ross. Rick Ross does not rap about his college education but he does rap about his cocaine trafficking. Rick Ross, like most rappers, has multiple children with multiple different women.
2 out of 3 people think that music from the 1970s-1990s is better than the music now. Most people said because the music then made more sense and was easy to relate to, they had stories and the stories went to the beat of the song. Rappers then related to what was happening in the streets and the struggles that most people were having at the time so that people could have a relationship with the song . Now all rappers rap about are their money and all the woman they have, and because of the fact that people can't relate to their music they do things like sell drugs to have money and relate to them. Most rap is peer pressure, it makes people feel like if they aren't like these rappers with their gold and their money, they aren't important, and instead of going to medical school and becoming a rich doctor they want fast money.

Is there any good music ? Yes, but its not recognized, you won't hear it on the radio or on tv and it's hard to find. People don't have the time to search through all of the music that you try to avoid just to find a few good songs, so people just get sucked into the bad music and begin to get used to it and enjoy it, it is everywhere, you cannot avoid it.
Hip Hop is only getting worse and worse and its only getting harder to save the good old songs. One day all good music will be forgotten and the music that is everywhere will suck us in and we will all evolve into liking even loving it. Hopefully we can make a U-turn and have a Lauren Hill or a Heavy D of our generation.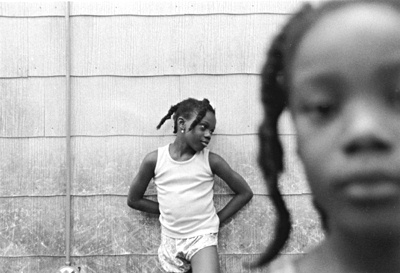 © Daniel N., Boston, MA