Perfectly Imperfect
November 21, 2009
An old tree is beautiful for its grandeur, and the story you can feel when you press your face into the leaves and run your fingers down its cracked bark. It's beautiful because you can sit at its roots and listen to it whisper of forest fires, lightning strikes, and storms that beat upon its skin.

An old house speaks in a hushed tone, of the strange things it's seen. And if you tiptoe into the kitchen, furniture-less, lifeless, you can find where it cried when it was left behind. You can huddle into the splintered wood and feel just an ounce of its memories, of its fear, of its loneliness.

An old racehorse stands at the edge of its pasture, defeated, yet unbroken. You can touch the scars on its hide and the muscles wearing into its tanned skin. You can look into its eyes and see a spirit burning like a fire, a spirit that has lasted ages upon ages. You can lean your forehead on his and feel the warm breath on your neck, the same breath that carried him into glory.

And that's when you begin to realize that beauty is more than perfection. It's a beaten, broken, and wounded hide. It's a spirit that's been cut down and destroyed a thousand times. It's the story that can be whispered between cracked lips, the story that only one individual can tell correctly. It's the fire that's burned through Hell.

Beauty is a cracked, sagging, imperfect, patched, worn, and broken story.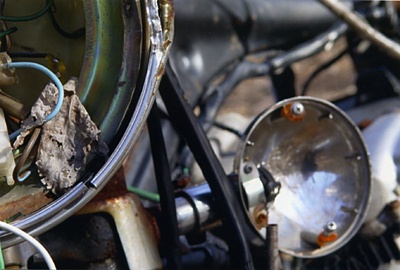 © Sara M., Milford, CT