The Importance of Harry Potter
July 31, 2011
I began this by trying to review The Deathly Hallows Part 2. I soon found that trying to find fault in Harry Potter was like being asked to find fault in your child, and yet maybe the beauty in Harry Potter for me was that I never tried to find fault. I was first introduced to Harry Potter at the tender age of 6, at this age the books were simply fairytales and throughout my life despite my love of solving clues and debating I have never done this with Harry Potter because I like to accept it for what it is. Harry Potter for many people, I can vouch for this, is not just a book franchise and a movie franchise it is this whole other world that we are all lucky enough to share. Most children have to keep their daydreams and fantasies to themselves, somehow we were lucky enough to be given the most magical daydream- a daydream that could be shared across seven continents, across generations and with the most surprising of people. That is why when trying to review the Deathly Hallows it is enormously hard to be impartial, because for me it was and in many ways will always be real.

Literature is a beautiful thing. In my own life I know it has inspired and moved me in ways that would never be possible without the likes of Douglas Adams, J.K.Rowling and Lewis Carroll (my own personal favourite authors.) Slowly it seems to be slipping out of society, as books turn to kindle and novels are dismissed for films the smell of old books and the escape found between printed pages is being faded out and I worry for the future of us 'word-nerds'. Somehow I cannot disconnect this dismissal of books with the end of Harry Potter; it somehow seems completely interlinked in my mind. Maybe it's just nostalgia but I think it is no coincidence that as some of the best selling volumes of all time end the appeal of books is being lost. Harry Potter was a link between children and the world of books, a very vital and delicate links that needs re-establishing before the wonder of the written word becomes invisible to the new 'techy generation'.
However, in my mind, the most important things about the Harry Potter series is that it teaches morals; it was the educator of a whole generation. J.K.Rowling once wrote on her website: 'Let my girls be Hermione's...' and isn't that what we all wanted to be when we were growing up reading the Harry Potter books- we wanted to be the smart, kind and brave girl depicted by Rowling. Yet now, though I have great respect for and actually enjoy the likes of Twilight and The Georgia Nicolson series the only message they seem to contain is the importance of having a boyfriend, a medieval ideology that we should be progressing away from not regressing to. For a long while Harry Potter was a beacon of light: her characters were strong and worthy, the plot inspiring and magical and now my greatest fear is that we will be lost without the little bit of hope it supplied to millions of children, it taught us to be good, an important lesson that is hard to come by in a world so shrouded in greed and doubt, one I fear may become lost.

I am not saying that without Harry Potter anyone's lives will be ruined, it is not the end of the world. There are more important things in life but it inspired so many, taught us to be good and introduced the wonder of books to so many more than J.K.Rowling could ever have imagined. Harry Potter was wonderful. Harry Potter will be missed.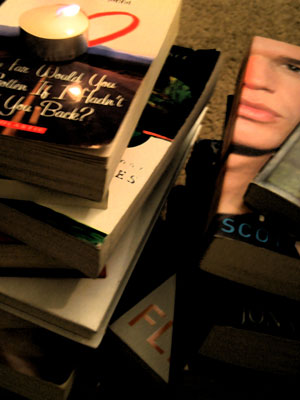 © Alexis R., Clarkdale, AZ