A book worth my summer.
November 24, 2009
My first summer home without summer school was my first summer before high school. For once I was homework free—well, at least that is what I thought. On the fourth week of vacation my aunt informed me that I had to complete a summer reading assignment. This was the first time I would have to do something like this, and I was not a very happy girl when I found out about it. My summer was gone and it was all because I had to read a stupid book. The book was Speak by Laurie Halse Anderson. It took me about two weeks to complete the first chapter and I hated every page of it. At the time it felt like the most boring piece of literature I had ever read. But I was on my way to an academic high school, and I had no choice.

My school began the summer reading policy within the last three years. Students read a specific book and complete the mandatory assignment. Before then, neither incoming freshman nor the teens who already attended the high school were obligated to complete such a task. They were not even required to read a book, much less an assigned book. The summer reading policy was invented with the intended purpose of helping boost the reading skills of those students who attend the school. Although most students object to school's summer reading policy they, in the end, are exposed to a broader variety of books and benefit from the literature they are asked to read.

"Traditionally, the love of reading has been born and nurtured in high school English class . . . high school even more than college is where literacy taste and allegiances are formed; what we read in adolescence is imprinted in our brains. . ." Francine Prose, writer, teacher, and parent, notes that literature is important in a child's life before and after adulthood. High school is the basis of literature in memory and reality. What is taught and learned in the teenage years follows young adults into their college years and stays with them forever. High school reading influences future reading. The survey "The Literacy Skills for the World of Tomorrow" has found that illiteracy affects one in every four adults in the developing world. Summer reading assignments give teenagers a reason to read and help this problem.

Equally important, not only do literacy skills affect adults they also take a toll on many teenagers. An organization for Economic Cooperation and Development conducted a survey that concluded girls receive higher scores on reading tests. A summer reading policy requires all students to read—female or not. Reading and analyzing a piece of literature are often on reading tests, so summer assignments are like practice tests for the actual thing. Also, this survey revealed a relationship between class performances and educational performances. Summer policies lead the way for connections between class and what has been read, giving teens a chance to better study what they have read.

Even though the summer reading policy assists in broadening most teenagers' reading and exposes them to different and new authors, it does make some dislike literature. The summer reading, in reality, forces students to read a book without their input or choice. This right away is a turn off for the students. Immediately they would despise this task because it was forced upon them. They get a mind set that screams hate for the assignment, and it often does not change. With this mentality, they will not enjoy the book they are reading. It then leads to teenagers doing the famous "judging a book by its cover", because one bad piece of literature means there are many more.

The summer reading policy is a controversial topic that will always remain that way. In this case the pros outweigh the cons. Having experience with summer reading, and my better judgment, I personally believe that the policy is relevant. It encourages teenagers to read outside of their comfort zone and to, overall, read more. The reading policy gives students a head start on school during the winter. For some, it is an easy first grade for the start of the school year, and for others, like myself, it is the introduction to new enjoyable books. Ways to improve the summer reading policy should always be the topic versus how to eliminate it. Telling children to appreciate a piece of literature will help them survive the day, but teaching them to appreciate it will help them survive a lifetime.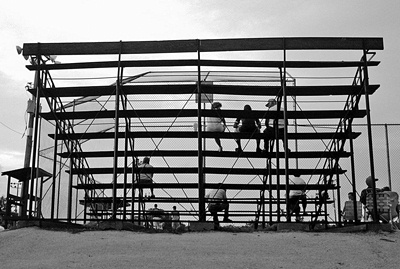 © Katie C., El Dorado Springs, MO