Who Can See /Your/ Grades?
March 2, 2014
In this world where privacy is a joke and personal information is personal in name only, many institutions quietly gather information for studies, surveys, or surveillance. But shouldn't the personal information of students be an exception?

Understandably, if you post the nitty-gritty details of your private life on Facebook, you shouldn't really expect privacy. If you take a survey on your political beliefs, sexual orientation, or favorite kind of dog, that information is out there. You aren't getting it back. This is reasonable; you made a conscious decision to disclose that information. Students don't have that choice. Their information is taken by the school system, ostensibly to allow teachers to make decisions based on the individual characteristics of each student.

Every day children are graded and tested. Their social behavior is analyzed. With information coming from many directions, some schools are finding it difficult to cope. Schools in some states are turning to big companies to store that information in the Cloud. The danger here is two-fold. Naturally the first concern of parents is that personal information of students not be given to venders whose objective is to target them commercially.

One such company, inBloom, says that it will not be selling information to anyone. If true, this would be quite comforting. But as we all know, business plans change. In five or ten years it might be taken for granted that a company storing data would also be selling it. I'm sure that a few months ago no one but the most paranoid would have thought that Verizon and Sprint would be selling phone records to the NSA.

In addition there is the fear that information not pertinent to the education and well-being of students is being collected. In doing research I watched a promotional video put out by inBloom. The video shows a teacher assigning homework, encouraging children, and communicating with parents, all while barely looking up from her tablet on which is displayed detailed graphs of the behaviors of each student. The video is supposed to show the organization and efficiency that inBloom can bring. For me it seemed to portray an almost Orwellian culture. A huge database containing the school records, including grades, assignment completion, and behavior, of millions of students. Personal information collected and put in that database. Teachers have stated that they do not need more information in order to teach students. The five dollars that inBloom charges per student per year could be put to better use for projects actually pertaining to education.

In the end, a large-scale database of student information is simply not necessary. And tracking students could be just the first step down a slippery slope.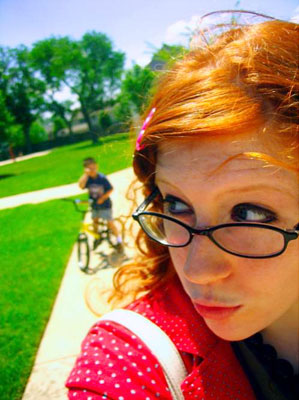 © Callie B., Mechanicsville, VA