High School Is Just Like the Real World
June 22, 2016
Growing up, everyone says that the real world starts after high school. That the real world starts when you're living under your own roof and not under the supervision of your parents. When you're in charge of paying the bills, buying the groceries, and creating your own curfew. That, and much much more, is all true, but some adults don't understand that to high schoolers, their "real world" revolves around passing Chemistry class and when the next football game is. Just because someone doesn't pay taxes, it doesn't mean that their world is any less real than someone who does.

For someone attending high school, or any level of school for that matter, their life revolves around going to school and activities in relation to school. That's their world, that's their life. So they don't pay taxes or they aren't in control of their own groceries, but does that mean their lives are any less real or important than someone living in the "real world?" No it doesn't. Yes, someone in high school living under the supervision of their parents is more sheltered and has less responsibilities, but their lives, everything they're doing now, is their real worlds.

It might just be a teenage thing, I don't know because I'm still a high schooler, but I find myself comparing life to high school. For example, I went on a cruise a few months ago and I found myself comparing it to high school. There was the almost instant connection of the cliques (jocks, nerds, rich kids, people who just want to hook up, etc.), the romances, the drama, and everything else except the textbooks and tests. So socially, it was just like high school. Maybe that's what we're really supposed to learn in high school; how to be social. I mean, learning how to deal with people who you cannot stand seems more important than knowing that a2 + b2 = c2.

Maybe adults are right when they say we aren't apart of the "real world" yet, but to teenagers it is the real world. Our lives revolve around mystery meat Mondays, Friday football games, and passing class instead of revolving around board meetings, picking up the dry cleaning, and getting to work on time. Different ages, different responsibilities, but all apart of the real world.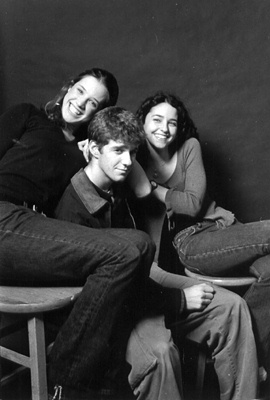 © Samantha F., Marblehead, MA