This Is Not A Boring Story About Religion
October 5, 2009
In the trolley bus, I was just blankly staring out the window. Suddenly, the train slowed down in my vision.

I was just coming back from student law court where I volunteer as a student lawyer. It's like mock trial. I was playing game on my shabby calculator. Suddenly, I had an impulse to look at people that were sitting around me.

A girl talking on the phone. A high, shallow, yet soft voice. Sounds like she's talking to her friend about her little sister. My eyes move on.
A guy seemingly in mid-age. Reading a newspaper. Casually dressed--a stripe shirt and a pair of khakis.
An old guy. Looks really tired. There were deep furrows in his brow. Looks like a construction worker.

In a silent trolly car, a question struck my mind.

'Why are these people here?" "What makes them do these things?" I thought. My thought process continues.

I don't remember if I tried to answer these questions that popped up in my mind. Seconds ticked by before I concluded with the final question.
'Why do we, human beings, live?' 'What are we living on for?'

See, this was the question. Good question. I don't know why. I don't know what for we're living on. And I came to realize, this was the question that th e mankind has strived to answer right to this moment.

That's why religion is so powerful. Religion gives meanings to people's lives. To some, God is the meaning of life. To others, Buddha is. It differs in every religion. Sorry, I don't know enough to list them all. Islam, Buddism, Christianity, and so on.

Also, there was this one guy in France who didn't believe in God. If we think there is no God, there's no one who can judge what's right and wrong. Think about it: why is it bad if I killed a friend? No one is going to judge me. Well of course, I would never kill a person. And other people will judge me if I did. But still, if there was no God, there would be no one to really say that's morally wrong and that's right. Get my drift? So this guy names Jean Paul Sartre said something like this, "what matters is our choice. we may choose to kill or not kill a person (well this is rather extreme)." Now, I don't understand 100% what he says, but Sartre, this guy was one of the guys who tried to answer the question.

I also thought this, like we learn in biology class. It says we evolved from a little thing. We used to be something like monkeys and chimpanzees. Biology explains that we live to reproduce. Just to make and rear our children. To continue the existence of human being. But then try to answer this question: Why are we the way we are right now? why did we evolve to be humans? Couldn't have we been more like dragons or aliens?


A sound of rumbling in my stomach. I think to myself, 'Oh yeah, I haven't eaten since lunch.' Putting these not-too-easy-to-answer questions aside, I pull out a chocolate bar from my backpack.


Suddenly, the train was at its full speed again.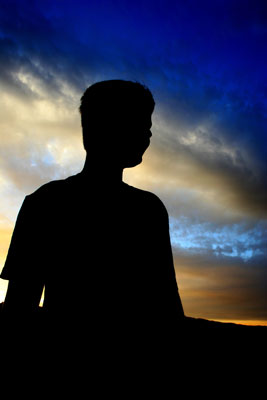 © Monica L., St. George, UT