Why??
March 22, 2010
I was once asked by an unsaved friend of mine, "Why, if we are such despicable, evil sinners, why did God want to save us?"

Well, for any one else who has the same question, I'm going to answer it for you.

Rom. 3:10 "There is none righteous, no not one." God needs to save us for the very reason you think He SHOULDN'T save us. See, God created man, not just because He was bored or thought it would be cool. He created us so that He could fellowship with us. But once Adam and Eve sinned, God couldn't fellowship with us because God is holy and can have nothing to do with sin (sin: things that break the 10 commandments, ex. stealing, lieing, putting anything before God).

Now there lies a problem. Everyone on earth is sinful. You may think that you're not, but everyone is ("For all have sinned, and fall short of the Glory of God/Heaven" Rom. 3:23). God created Heaven so we could live with Him when we die, but how can we live with Him when we're sinful and sin can't enter Heaven? God made a solution. He sent His perfect and Holy Son Jesus to die for our sins. God knew that two things were required for Jesus to take our punishment:

1: Our redeemer had to be perfect. Because of that one reason, no human could take our punishment. So God sent Jesus, to be born of a virgin, wholly, 100% human, wholly, 100% God, to be that Redeemer.

2: This Redeemer must redeem through a blood sacrifice. Heb. 9:22b "And without the shedding of blood, there is no remission (forgiveness)". Jesus was beaten, bruised, whipped with a "cat of nine tails", every joint is His body was dislocated and once He was hung on the cross, the Bible says He wasn't even recognized as a man.

By dieing on the cross, He took our punishment for our sins. But what is that punishment? Hell.
Hell isn't just separation forever from God, it's also a place of fire, burning, "weeping and gnashing of teeth", flesh eating bugs, darkness, eternal falling, I could go on. God created this place to be a punishment for Satan and his angels, but also for those who die without repenting (asking forgiveness and turning away from) of their sins and believing on the Lord Jesus to save them from that eternal punishment. The reason Jesus came to earth to die on the cross, was because He knew the whole world would end up in Hell if He didn't redeem them through the shedding of His precious blood. And with that blood, He could wash our hearts as white as snow from the stains of sin.

But it wasn't enough for Jesus to die, He also had to "conquer the grave". See, Jesus never stayed dead. After three days, through His own power, He rose from the dead. He wasn't a ghost or spirit. And to prove that He wasn't, He ate with His disciples and had them feel His scars ("Reach hither thy finger, and behold my hands; and reach hither thy hand, and thrust it into my side: and be not faithless, but believing.").

Jesus loved us so much that He died WILLINGLY. No one made Him die, no one made Him sacrifice Himself. He sacrificed Himself willingly. All because He loved the wretched sinners of the world.
All Jesus asks is that you repent of your sins, believing that He is "faithful and just to forgive us our sins and to cleanse us from all unrighteousness. (1 John 1:9b)", and turn and follow Him, wholeheartedly.

Please, every one of you, take what I have just written seriously. Your eternal soul is a matter people like to take lightly and yet it's the most important decision you will ever make.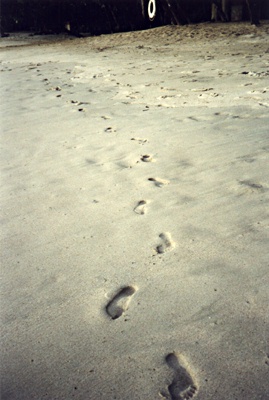 © April W., Rogersville, MO