Have I Commited The Unforgivable Sin?
August 18, 2014
Is there a sin that one can commit where salvation is no longer available to them? Yes, but it takes complete stubbornness of the heart to do so...

In Matthew 12:31,32, Jesus said, "Wherefore I say unto you, All manner of sin and blasphemy shall be forgiven unto men: but the blasphemy against the Holy Ghost shall not be forgiven unto men. And whosoever speaketh a word against the Son of man, it shall be forgiven him: but whosoever speaketh against the Holy Ghost, it shall not be forgiven him, neither in this world, neither in the world to come." This passage of scripture can be interpreted in the wrong way and make people without properly understanding the context conclude with the wrong idea. And I myself misunderstood this verse but with the help of God's Word and my family, I was able to understand the context.

So, if you read the previous verses before verses 31 & 32, Jesus had cast out a demon by the Holy Spirit, but the Pharisees said in their hearts that he cast out the demon by Beelzebub and failed to realize why would Satan cast out Satan. " Then one was brought to Him who was demon-possessed, blind and mute; and He healed him, so that the blind and mute man both spoke and saw. And all the multitudes were amazed and said, "Could this be the Son of David?" Now when the Pharisees heard it they said, "This fellow does not cast out demons except by Beelzebub, the ruler of the demons." But Jesus knew their thoughts, and said to them: "Every kingdom divided against itself is brought to desolation, and every city or house divided against itself will not stand. If Satan casts out Satan, he is divided against himself. How then will his kingdom stand? And if I cast out demons by Beelzebub, by whom do your sons cast them out? Therefore they shall be your judges. But if I cast out demons by the Spirit of God, surely the kingdom of God has come upon you. Or how can one enter a strong man's house and plunder his goods, unless he first binds the strong man? And then he will plunder his house. He who is not with Me is against Me, and he who does not gather with Me scatters abroad." (?Matthew? ?12?:?22-30? NKJV)

For one to reach a state of wickedness in which he has no willingness to accept the truth and obey it, no matter how strong the evidence, and sink so low in degradation that he is unwilling and even unable because of his attitude of refusal to submit to that which is right, then he has committed the unforgivable sin. All sins can be forgiven, "But if we walk in the light as He is in the light, we have fellowship with one another, and the blood of Jesus Christ His Son cleanses us from all sin. (1John 1:7)", but we have to have an open heart to accept God's Word and believe what he says is true. "For God so loved the world that He gave His only begotten Son, that whoever believes in Him should not perish but have everlasting life. For God did not send His Son into the world to condemn the world, but that the world through Him might be saved. "He who believes in Him is not condemned; but he who does not believe is condemned already, because he has not believed in the name of the only begotten Son of God. And this is the condemnation, that the light has come into the world, and men loved darkness rather than light, because their deeds were evil. For everyone practicing evil hates the light and does not come to the light, lest his deeds should be exposed. But he who does the truth comes to the light, that his deeds may be clearly seen, that they have been done in God." (?John? ?3?:?16-21? NKJV)

Please be wise and don't ignore what God has to say to you.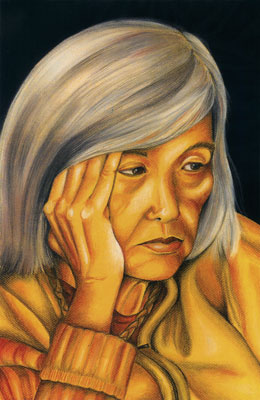 © Kaitlin C., Forest Hills, NY