Ultimatum
October 15, 2014
What is worth the ultimate sacrifice? Seriously. What are you willing to die for? Heroes in books and movies are typically willing to die to save the world. Martyrs are willing to die for what they believe in. Soldiers are willing to die to protect their country.
Many heroes give their lives to save the lives of others. Life is precious, but is life worth dying for? I believe it is. I believe that a true hero is one who does the right thing, always, without asking for recognition, without regard for the cost to themselves. Bravery, determination, strength, and fast thinking are good qualities to have, but selflessness is what makes a hero.
Do you have it in you? It's rare that ordinary people are called on to make the ultimate sacrifice, but it does happen. If given a choice between something you know is right and something you know is wrong, would you have the courage to make the right choice and then deal with the consequences, whatever they were?
You really don't know whether you can until you get in that situation, and you might not ever. Most people don't. But you never know what will happen. Life is never, ever predictable. The things you least expect happen when you least expect them.
Think about the 9/11 emergency responders. The teachers in the Newtown shooting. Many in our military, who die defending their comrades and our freedom. These heroes rose to the occasion, defending the lives of others without regard to personal sacrifice, or possibly in spite of the personal sacrifice involved. Many of them died for it. They were selfless.
On 9/11, there is a forgotten story, hidden among the falling Twin Towers. Another plane, United Airlines Flight 93, was hijacked by suicide bombers, and rerouted, intending to crash into the White House or the Capitol building. The passengers of the plane revolted against the hijackers, fighting for control of the plane. One of the passengers, a business executive named Thomas Burnett, Jr., told his wife over the phone, "I know we're all going to die. There's three of us who are going to do something about it. I love you, honey." They crashed in Pennsylvania soon after, and the crash killed all aboard.
The greatest example of the ultimate sacrifice is found in John 3:16: "For God so loved the world that He gave his only son, that whoever believes in Him shall not perish, but have eternal life." Jesus Christ died so that we might have life eternal. "For God did not send His son into the world to condemn the world, but to save the world through Him." (John 3:17) He did it out of love.
As a Christian, I'm called to live out my faith, to be Christ to a lost and hurting world. But the question I sometimes have to ask myself is how far am I willing to go? Would I be willing to make that sacrifice to do the right thing, to save someone else?
Could you do it? Could you, in the midst of chaos, while the world is crashing and burning around you, stand up for what's right and make the ultimate sacrifice? It's sobering to think about, to come to terms with your own mortality, to evaluate what you believe in. But think about it anyway.
Is life worth dying for?
John 3:16-17, NIV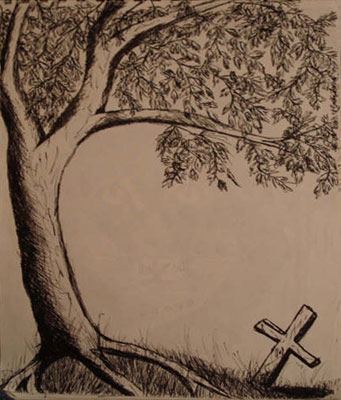 © Courtney K., Bethel Park, PA