New Hand Segments
April 30, 2009
He is within himself as he begins
the funny walk that emanates
from his body, which converses and debates.
His future is in his hands.

What of his currencies? No use, forget
that you have forged together
such a sin of the air
in this metropolis.
Corruption is beaming up at the sun,
smiling as it does, and returning promises,
it stares and laughs unaware
of the black voids.

her memory will live on, and it will congregate bad news,
but he plans to persevere.
Remorse would like him to slow down a little,
it shouts at him "Heyy," but
it is better that he keeps walking.
"Better for him" says the shadow, and shrugs its shoulders
and wisps off into walls.

A woman and child walk past him,
and the child's uncoordinated finger flies out
to point and ask with curiosity,
but the mother forces him to turn around,
And she must keep him walking and stare back at him,
for the child's sake and her assurance,
that she will not have to worry.

He is forgetting because he is forgotten,
only for now in his contemplation. He cannot
think of his harmful audiences right now.
the moment is echoing out to him
and his heart is beginning to beat very fast.
now he is worried about how he is
going to go about it all,
but God is calling out to him, and his finger
is reaching down to stroke him with the winds it casts.
He cannot shrug, "This is a revelation, he thinks,"
he thinks of himself. Coral is growing in the deep sea
underneath him, and he need not look down!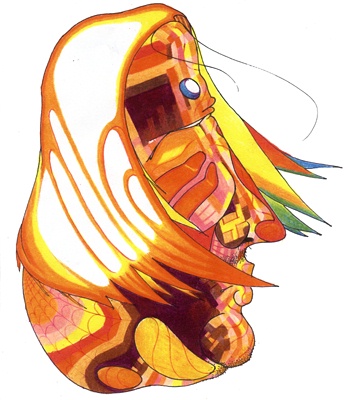 © Michael C., Phoenix, AZ