Corrections
February 4, 2010
Your red pen rests unseen
In its bastille,
But still
Draws my eye,
Sanguinary as the words that I imply.

Roses are red with painful thorns;
When picked,
Do prick,
Although more than one answer could be true;
It just depends on the view.

If you found the answer(s),
I'd acquiesce.
Nonetheless,
It would be written in red ink,
Like blood seeping from all that I used to think.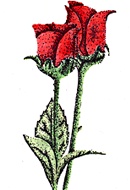 © Sarah M., Phoenix, AZ