Fearless Freak
June 8, 2010
The dark is my kaleidoscope, it turns
All preconceptions upside-down, magic.
The treacherous looks down-right friendly, safe
The plain is polished, engraved, cleaned, replaced.
The noise is caught and swirled, shadows maze.
Some shake, I laugh, delighting in the strange.

The spider swings from strands of silky wind
A master of disguise, to hide in air.
"How do you do?" He offers no reply.
This suitor never is a threat, you see.
His careful hands have dropped no bombs, no pain.
What danger hides inside this clever lad?

To sit at lands vanishing point and see
If life to every angel looks the same.
To fly or fall, to glide or crash…all hold
My puppet strings; I march, I climb with joy.
I hop from stair to tree to mountain top.
Up here I see, below my heart is blind.

That wavering line: an end? A start? Who knows?
A demons breath, an angels wing… To me
A tell-tale waterfall approaching, now,
After a life-long ride in this canoe.
Why fear what fear itself can never change?
You call me strange. I'd rather laugh than fear.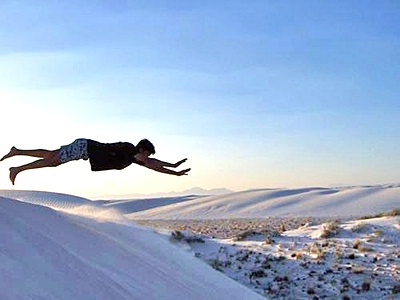 © John W., Evergreen, CO