Fingertip
June 22, 2010
A lie, a lie, a lie I made you into though you were true to yourself and me.

You've grown. Encircling and ensnaring the virgin, clean surfaces I used to see.

Surroundings touch and feel and live, but meeting you is numb and an eery silence greets my anxious nerves.

Silhouetted by the light, all is natural 'til the beam catches you, highlighting bumps and crevices and curves.

Others notice your presence but see you through the veil I draw across your face,

Calling you, knowing you as the alias I encoded in your brithname's given space.

You disgust me, you digrace me, you distort me with your ever expanding embodiment of mistakes,

But I cannot cure myself of you because if I try, we both, outlined by our imperfections, will be seen as fakes.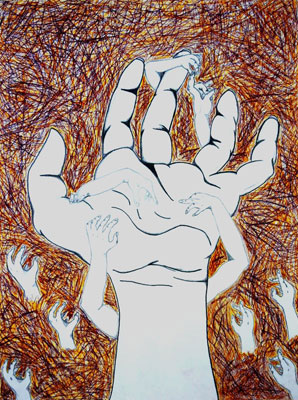 © Ariana R., New Orleans, LA