Bruised and Beaten by Love
September 17, 2010
Holding on, running ever faster,
A scared, lonely girl
Wearing a dress of Alabaster.

She's been beat on the outside
And cursed on the inside,
Given more pain every time she's cried.

Loving arms never wrapped around,
Holding her in warm protection,
In her head these facts resound.

She wishes for comfort of a special kind,
For a heart to see her heart,
For that love that's supposedly blind.

But with each predator she meets
They leave her bruised and broken,
After stealing handfuls of heartbeats.

She's not sure how many are left,
The memories swim in her mind,
All those boys who've committed theft.

One stands out among the others,
One different in every way,
"Watch our for him" warned her brothers.

He had a very fragile soul,
So hurt, yet so wanting to love,
In her life, he gained an essential role.

He kept her alive,
Gave her reason to live,
In the ocean of love she'd taken a dive.

But then distance proved too much
And he forced her to let go,
Left her craving his comforting touch.

So now here she is with scars
Of self-inflicted wounds,
From those nights when she couldn't see the stars.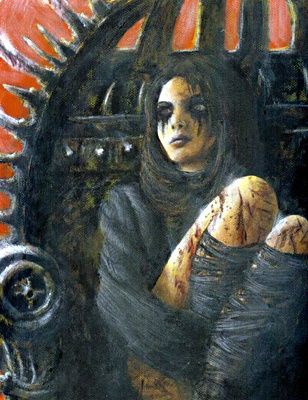 © Veronica N., Kenora, ON, Canada