Love's Tape
May 1, 2011
I wanted to fix my heart, so I used your Love as tape.
You wrapped around me unbearably, but you're impossible to escape.
You tried to sew me back together as a needle and thread,
But it choked me and bruised me more, hurting me instead.
So your Love was then a band aid, covering up the sore.
The pain still lasted through it all, until you finally tore.
Then you stole my heart from me, hoping your care would make it heal.
Safe, but forgotten, its originality began to peel.
Money, you soon learned, couldn't buy a brand new heart.
Abandoned and unwanted, I felt myself slowly fall apart.
Love was only scarring me more deeply, so I turned to Hate.
Anger rose and drifted in me like a tornado smashing through a gate.
Fear always seemed mixed in with this, entangled in the Doubt.
My heart cracked and boiled as I walked this treacherous route.
Sadness soon took over, depressing my one hope.
I wasted everyday that passed as I simply moped.
Finally, I decided, that Love is the only way.
So I ran back to you, begging you to let me stay.
You broke me as you glued the cracks, but that's just the same;
for although I can hurt inside, Love's just another game.
So I'll stay with you and hold on tight,not bothering to escape;
for in order for me to fix my heart I'll need your Love as tape.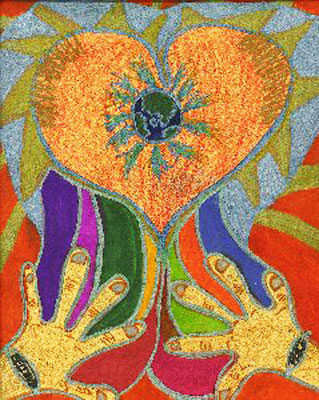 © Amanda P., Clermont, FL