Everyday Life
August 10, 2011
Extra tired, today. Made dinner but still working up the force of will to do dishes. I try in

Vain to write and incredible story. I'm reduced to poems about the

Everyday, because that's all I've got right now. French bread and some

Roasted tomatoes with asiago cheese and fresh basil and parsley. The highlight of my day. The

Yellow sun will be turning orange soon as it sets, and maybe I'll sit outside and watch. But,

Duh! Monroe will want to come too, being my three-year-old shadow. He's even trying on my

Aging black snow boots, though they are way too big! He looks nothing like me with his

Yellow hair and blue eyes, but he tries. Silly child. Drives me crazy, but I



Love him so. He has such a big imagination, as he talks about little monsters and my giant boots,

Insects that draw lines on his

Fingers. Gosh, I wish I had a beer, some friends, and a pool table, but oh yeah! I'm underage!

Eccentric little three-year old nephew in giant boots. That's now my everyday life. Fun, fun!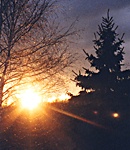 © Christy S., Germantown, NY