Ode to Coffee Cups
August 10, 2011
At first glance, you're just another weed,
but through scrutiny I've discovered a queen,
a dandelion amongst the rest. You are
like stationery, skillfully embossed, yet
piled together with ordinary sheets.
Amidst your kind, you stand out.

Inferior, chameleons bow their heads to you,
ashamed to call you their rival.
Modestly, you show them up,
bringing new meanings to versatility
with your skins that greatly outnumber theirs.

Marvelously, these skins highlight your diversity.
For artists of advertisements,
you serve as a successful canvas.
Or, through individual letters,
you display a message.
And, with simplistic images,
you convey a lesson.
Yet, at times, your skin
has only the significance
of a warm and recognizable
picture to return to.

To the everyday citizen,
your services are endless.
When your owner desires, you
selflessly switch from grasping one of
life's greatest, most coveted necessities,
to displaying the fine product of an entire country's labors.

Your appeal is mystifying to many;
however, I know the truth:
we love you for your personality.
Smooth and soothing, comforting and curvy,
you remind me of a mother!

Now you've become a well-known classic.
In fact, you are the world's best psychologist.
So many turn to you and the almost
magical medicine you prescribe.

We meet every day; same times... same situations...
It's consoling, as I stare into your depths
I'm aware there's no judgment,
only a familiar face. You're different
from everyone else... calming...
So here, once again, I sit with you.
I am Harry, and you are my Hedwig;
you're my companion, a perfect partner.
And during our short time together,
you, the Healer, provide me with a rejuvenating remedy.
Only through this moment of bliss, I forget...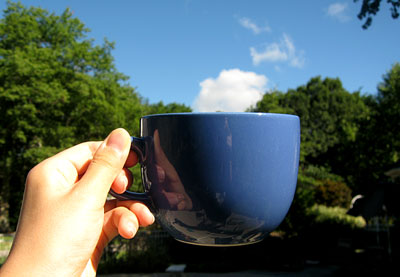 © Chae Lin S., Providence, RI