Because of That Lie
September 13, 2011
These days so long
these winds so cold,
sing a dreary song.
A song of legends old
that make me think
of what we used to be.
Life is gone in a blink,
my eyes he'll no longer see.

So hard I shook
and his words sank through.
Not only was is my life he took,
my my beating heart too.
"It's not fair,
not fair at all.
People said we were a perfect pair,
no you're watching as I fall."

Away goes your face,
trashed are your letters.
And those outfits of lace?
In the trash they look better.
I want it all gone,
the things we've done,
but it's hard to throw away a bond
full of all our loving fun.

Every night is filled with thunder,
but I still dream of you.
I ask myself and wonder
do you dream of me too?
I know you don't,
I meant nothing to you.
I loved you a lot,
and I thought you did too.

I told myself
"It's over, I quit.
You're just another book on my shelf."
Here I sit
and I finally smile.
I can escape all this.
In just a little while,
I have written a note, sealed with a kiss.

When you read it,
you fall to your knees.
You didn't realize that I really quit,
that I needed to flee.
It's all your fault
that I lay on this floor.
It's all your fault,
me you chose to ignore.

Now as I watch YOU fall,
know that it's from up high.
I now stand tall
as you silently ask why.
I cannot reply,
for you've silenced me.
It's because of that lie,
I'm dead as you see.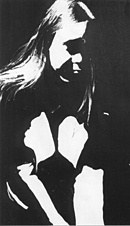 © Tabitha M., Kannapolis, NC