Bittersweet End
May 15, 2012
Speak. Fill my ears with your voice.
Make me regret ever living, but grant me one final choice.
Let my ever dying breath incinerate my very soul
Let the broken pieces of my heart be crudely welded to a whole.
Just hold my cold decaying hand as my spirit fades away.
Your repose in ranting inside my head, but I have nothing more to say.
In a wisp of snuffed independence, I will fall into submission.
I will not dare to take a stand without first asking permission.
So in retreating defeat let me recline into imprisoned relapse.
I'll cling onto these binding chains to steady myself so I won't collapse.
In living death, I'll stumble on.
No matter how crazy or sane or right or wrong.
You choose my path for me, and blindly I'll take it.
You tell me what you expect of me, and I'll somehow find a way to make it.
I told you I loved you, said I'd even die for you.
And so it would seem, that's all that you want me to do. My lips are frozen apart, as I'm obliged not to speak.
You kiss them with a binding fire, and your fingers singe my cheek.
I force myself to abide your will, because its safer not to bend.
And as I die I wonder why I'd never before thought of this bittersweet end.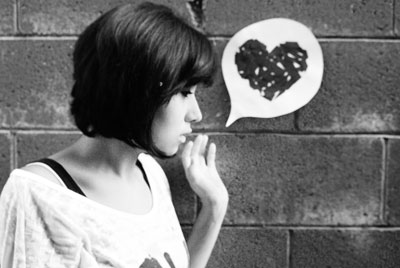 © Michelle B., West Covina, CA