To The Stranger Who Rides The Morning Train
August 2, 2012
To The Stranger Who Rides The Morning Train
He is beautiful.
I wish I could thread my fingers through his sun-kissed hair, as he stares at me with those eyes like polished sapphires.
His mouth could melt glaciers, shaped like a red heart, pulsing with every word that escapes his lovely lips.
He says hello every morning as dawn brings its shell-pink sky, his gentle hands slip under the glass, three coins clattering from his palm. When I give him a train ticket-always first sold to Berlin-my hand sometimes brushes his, (do you feel what I feel? There's fire in our touch.)
Oh, I love your bright eyes and your scent; like mint leaves and spring grass. Morning fog crawls up your body as you stand by the tracks, black smoke billowing from the distant chimneys in the East.
And every morning I give you your ticket, but I want to give you my heart, my perfect, my divine stranger.
Though I know it will never happen.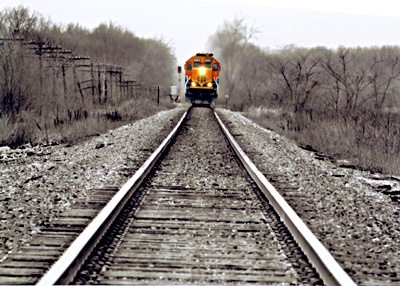 © Matt D., St Peters, MO