I Google Stars
January 5, 2014
Up the midnight sky,
stars wrestle the dark.
Spanned out in glory
they fill the sky
with diamonds to be mined.
Such beauty, no one sees.

Up at midnight,
I was a small shadow
in a large one, though
I could not tell if
I was melting or
resisting the dark.

Pixels snapped and hissed
as I scrolled through
website after website,
feeling the light
of the screen searing
into my eyeballs.

The night was in me,
writhing blackness and
crumpled starlight,
though in truth I could but
sense the skyfire
of midnight for I could not
see it myself.

In days of old, men would
stare at the stars
for hours at night,
piecing together tales
of constellations.
For me, pixels suffice.

Somewhere above me,
the stars endlessly spin.
But my mind is
too lazy, too soft to
to look up to them.

"Outside is too cold"
"And it is far too dark"
My mind whispers.
The stars once tantalized
But not tonight.
I google stars.


Reality is too big.
My screen is just right.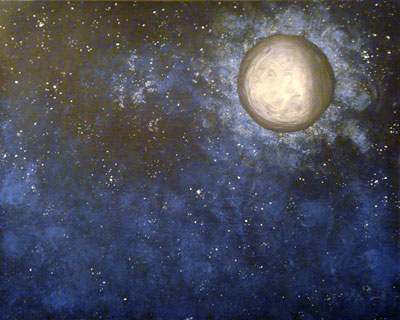 © Allison H., Vancouver, WA