My Part
November 6, 2008
I slowly lift my head to see
all the wonders out my door.
It's so easy to find the key,
I see so clearly, unlike before.

I didn't understand the night or day,
I felt I couldn't even live.
I didn't know what I could say,
but all I had to do was give.

In the fall when the leaves turn red,
I took a walk around a hill.
I saw some tulips, right ahead,
and I thought I could change, change with free will.

This is how I did my good part,
and changed the world by being smart.
I did my work and pulled the cart,
and it happened 'cause I opened my heart.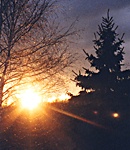 © Christy S., Germantown, NY