Too Terrible for Time
February 19, 2014
Mother and daughter tread through rainy cold
January air as they cross a white blanket
covered with a million miniature eyes.
Watching and waiting in the early morning silence,
the tiny watch guards stare and observe as Time
listens patiently to the crunch of snow under feet slamming.

The calm air is broken by coffee mugs slamming
and shattering leaving nothing but cold
and blood and cuts and pain as Time
picks up the pieces and hides them under a feathery pink blanket.
She listens contently as the room is taken by silence
and smiles brightly at the knowing ceramic eyes.

Her mother watches the sink as she cleans bruised green eyes,
dropping them in to a bowl like slamming
hail as it crashes to the ground, breaking a silence
so thick that even through the tightest window escaped the cold.
She smiles still as she wraps the eyes in a coarse black blanket
and waits as the water dries up. Nothing is too terrible for time.

"Can you make it?" shrieks the clock keeping time,
but she brushes the scraps from the sink until all that is left is the eyes,
and Time covers her mother like the blanket
that she needs. Little by little the slamming
dissolves until all that remains is the coveted cold.
Favored, revered, safe in the silence

that reverberates from the kitchen. Heard among the deafening silence,
"Dirt is like glue," Cold murmurs to Time.
"Dirt isn't as bad," Time glowers back. Cold
Silence returns as the sky pours eyes
and judges as needles and dolls and buttons are sent slamming
across the room, falling limp on the smooth wooden blanket.

As light fades to night, Time curls under her blanket,
her soft fortress, and waits patiently for the departure of Silence.
She clings to a mild smile under the watchful sky of eyes, slamming
every vision of sullied reality to the wall. The time
passes and eventually the eyes
turn away until Time falls out cold.

When the sun rises and the rain clouds leave with the cold,
The sunny smile resumes and she ignores the eyes.
Nothing is too terrible for Time.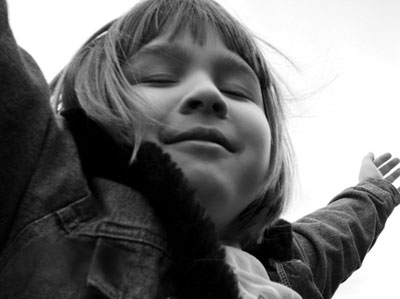 © Morgan C., Fridley, MN