The Epic of the Man Above My Head
January 3, 2009
I sat down tiredly. All this jumping around made me kinda tired and the thumping beat of the bass guitar wasn't helping. But in all ways was I happy.
Well in the Pershing center in Lincoln, most of the ceiling tiles are gone, so you could see all the way to the top. I was sitting in my seat on like the 15th row thinking...'I wonder why the tiles are missing.' Then I wondered...'I wonder if anyone has ever been up there...' So my lovely overactive imagination answered my question. Yep.
So as I sat in my seat, I looked up again and imagined that there was a person looking back down at me. No one else could see him, but he was there, in all ways mysterious. He knew I saw him; that was his intention in the first place. The corners of his mouth pulled up into a smirk as if to say...'There you are.' Being on the ground, I smiled back up at him. 'Here I am.' I averted my gaze back to the stage to let him take his leave, because that was what was expected. When I looked back up at the hole in the ceiling all that was there...was a hole.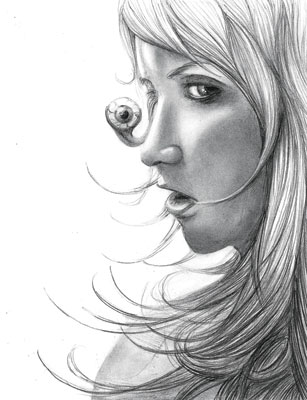 © Jessica P., Bethel Park, PA