beautiful toxic virgins
February 5, 2009
we'd down shots of electricity
and I'd lick the condensation
from your lips
as your eyes got bloodshot
and dewy with lust.
we'd dye our hair in hues
of reds and golds, or onyx and azure,
trimming our bangs to hide
the worst side of our faces,
then braid in glass beads and
grape leaves.
we'd eat plumbs, pizeliz,
cucumbers and canned peaches
with silver forks and our fingers
while we sipped stolen red wine, seltzer,
and orangena from the bottles with straws.
I'd tell you the stories of the gods
and goddesses in a gold tinted whisper
while you sang me songs
of depression, destruction and re-birth
your voice hoarse with regret
and we'd smile with closed mouths in a knowing way.
we'd lie together sharing skin secrets
on a bed with satin-yellow sheets
painting each others fingernails black
while eating strawberries dipped in chocolate
and making love with our eyes.
I'd slip into a smokey-blue satin gown,
and you'd take your shirt off,
then we'd waltz
to the music that lingered
in the air from years before.
we'd light candles scented with honey
and burn the letters we never sent
then sit and pray till the wax burned
the hem of my dress.
we'd drink coffee, black for me
cream and sugar for you,
while we bathed in scented bubbles,
moonlight massaging our shoulders.
we'd fall asleep in a papazian chair,
the leaves and beads falling out of our hair,
and at dawn we'd wake
with smudged eyeliner down our cheeks,
and blood on our clothes.
we'd kiss, your tongue sweet with mine
then gently hum our goodbyes so our skin vibrated.
you'd walk away in bare feet,
a different shade in your eyes
as you return to your castle in the sky
and your pure girl with red nails,
pearly eyes and a taste for goat's milk,
while I applied chap-stick to my numb lips
and contemplated our tangy thoughts
and how you tasted of what if's
and memories...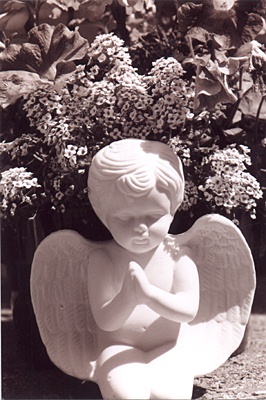 © Laurie T.,Hopkinton, MA