Premonition
March 2, 2009
Unbeknownst to you I came to being
You who knows everything
You who hears all.
I came, surprised everyone
I came, a premonition of the Fall.
I was a cripple; you were a whole
I had crumpled wings; you had them fold.
You took my only joy away from me
Took all my worldly pleasures
You stole away my life for yours
Stole away all my hard earned treasures
You took away my sky
Took away my moon
Left me to die
Left me in my safe cocoon
You promised love and a life together
You just wanted my wings, to soar.
Instead, to the ground you had me tethered
I can't be with you anymore.
I took you one moonless night
Took you on an endless flight
We soared past the stars and the moon
You left me and my feathers strewn.
I am the warning
I am the premonition
I am the hunter now
You have become the hunted
So watch for me and listen
Learn how to save yourself
Just remember what you did to me
Let yourself be condemned
For you left me after I became immortal
Ruled for a life on Earth
I did it all for you, my Vampire friend
Then as I started to scream
You left me, began to blend
You left me in an endless nightmarish dream.
I lay here cripple, the cold hand of Premonition clutched around your heart
It has done you no good to tear me apart.
Listen to me before you ranting rages start
Here's how to save your dead heart:
Love me as you promised you would
Let me mingle my feathers with your leather wings
Let us have a happy eternity
Stop me from hurting you.
I am only the Premonition
The warning, the bringer, the causer of your death.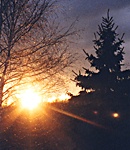 © Christy S., Germantown, NY