One Step To The Ground
September 4, 2016
I'm standing on top of the building
Hearing the rain's sobbing sound
Here is when I'm finally taking
The one step to the ground.
The wind whips beside my ears
The neon lights are all turned on
In a busy world like this
Who'd notice a nonentity gone
The world seems so big a place
Yet nobody would accept me
I'm sorry I can never become
The person they want me to be.
He is so much more talented
She's a way better person than me
The world would probably be better
Without my stupidity.
I know I shouldn't give up
I should keep trying to fight
But I have no more strengths left
I would rather take the flight.
The police sirens ringing below
Among the flashing lights they shout
They say all the comforting words
But none of my life they know about.
One step. One step. My escape.
One step. One step. All will end.
My heart shattered into jagged pieces
That nobody's love can ever mend.
I'm slammed back onto the rooftop
Someone has grabbed me from my back
The rain mixes with all my tears
My heart aches as the world turns black.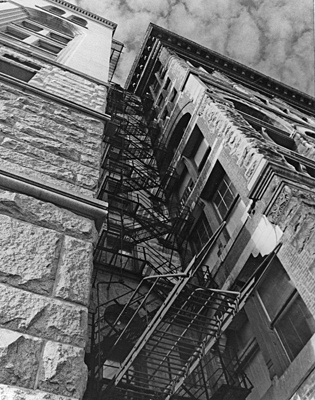 © Eric H., Lafayette, IN