Unleashed
April 24, 2019
Lost within or lost without
Time seems to last forever
From the beginning till the end
Nothing is something what can't you comprehend
Born to be more Made to be all
If time last forever, there is no beginning or end
Maybe time doesn't exist?
The sprinkles of stars in the night sky I count
And I measure the blank in between
The blank was once nothing turned into something it may seem.
Did The Birth of the universe come from absolutely nothing?
The stars shine so Beautiful and Bright
The blank turning out to be the perfect canvas
The stars shine as if to tell us "we were here all along just waiting to be unleashed"
Nothing to something, Nothing somehow created everything
17 years ago I was nothing no soul or life at all.
The Birth of a child is as magnificent as the birth of the universe, from nothing to something I came as if I've always been here just waiting to be unleashed.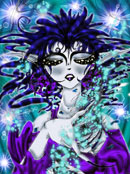 © Lena B., Olympia, WA