Anadyomene
MAG
April 30, 2009
My mother swims the butterfly
in the Gulf of Mexico, her body
a series of arcs that slip smoothly
through the wall of green waves.

She pushes bubbles to the seabed with
cupped hands, the air from her lungs and
the foamy thrash of the waves mingling
around her legs in a slipstream current.

My sister and I bounce on tiptoe in
water up to our chins, watching for
the splash of her kick that rises
just over the crest of the next wave.

We call after her, but with her
ears full of water and a sandbar
between us, my mother is deaf
to all but the call of the ocean.

When we feel sluggish with sea salt
we stumble, numbed, up to the shore
and pace there, waiting for our mother
to come back from the edge of the world.

There, her bones never betray her,
the brine washes over her weak joints and
she returns to us with water streaming
from her long hair, a modern-day Venus.

I am no longer that child who paces
the shoreline, having long since scrubbed
the sand from my hair, the salt from my veins,
but my mother molders, landlocked, inland.

She sits at the edge of our goldfish pond
and trails her pale fingers in the water,
wets her sleeve and trails the dripping edge
along the curve of her jaw.

Her deep blue eyes hover somewhere
between the horizon and distant storm clouds,
as if she waits for the rain to flood
this dusty-dry land and set her free.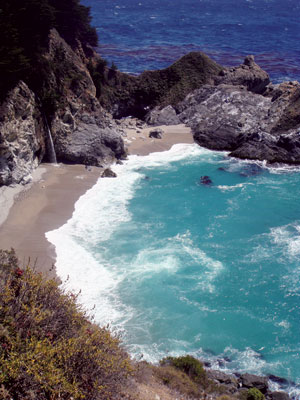 © Piper C., Roswell, GA