I Am From
November 11, 2009
I am from a loving family.
From Christmas mornings and Easter egg hunts,
From days spent with friends,
From nights spent with loved ones,
From two dogs and a cat,
From summer days at the lake,
From school days with peers.

But most of all,
I am from love.
From caring and patience,
From sibling brawls,
From slamming doors.

I am from always making up.
From mom's many different candles,
From dinners around the table,
From the glowing light of the t.v,
From no one actually watching.

I am from my brothers soccer games.
From my dad's comfy sweatshirts,
From my grandparents farm,
From my mom's comforting hugs.

I am from knowing.
From knowing I am loved,
From knowing I will never be left without a shoulder to lean on,
From knowing my family is always on my side.

I am from pepperoni pizza.
From "Hamburger Helper",
From paper plates,
From cherry kool-aid,
From red stained lips.

I am from the big backyard.
From the broken playset built just for me,
From the trampoline that makes your hair stand straight up,

I am from a home.
From a place that will always be in my heart,
From the comforting walls,
From the special scent of of each individual mixing to form the most wonderful smell,
From the smell of family.

I am from the scent of love.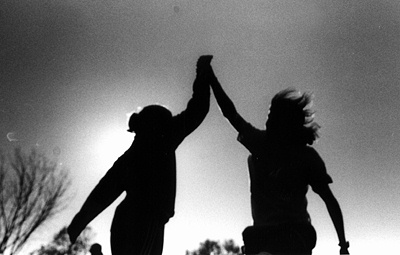 © April P., Marblehead, MA