Ebony and Ivory keys
April 2, 2010
Her fingers move swiftly over the Ebony and Ivory keys,
flowing in a sinuous motion,
chasing each other over octaves
Melodies overlap into an ochestral piece,
before slowing into a waltz
The young girl shuts her eyes.
her fingers continue to tap the keys,
the song morphs a bridge before
settling for a soothing lullaby
The Ivory keys take their turn as the song enters a symphony.
Much louder,
a difference from the legato of the lullaby.
The pedal moves in time with the keys,
letting the notes flow into eachother,
never leaving a gap
The song is almost over.
the girl presses gently on the last notes,
the piano is singing its final tune;
the music stops,
a chair is moved,
and the girl leaves the grand piano silently.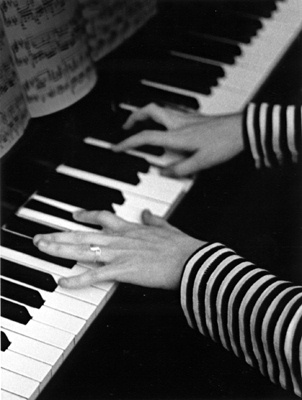 © Paulina A., Marblehead, MA