Ocean
April 2, 2010
Waves come crashing to the shore,
I squeal when it splashes me.
You won't think it's a bore,
When you hear me laugh with glee.

I see a cloud of sand,
Swirling under the sea,
it's close to the land,
Yet, I still want to flee.

Now I am completely wet,
I see a wave starting to create
And place my board, ready set,
It slips by and I am late.

Although the wave I missed,
And it was not the only one,
There would still be a long list,
Of my never ending fun.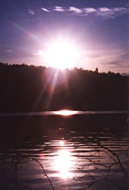 © Laurie T., Hopkinton, MA