My Hours At Arlington
April 16, 2010
All of those names,
All of those faces
That I can just picture
As they run past me on a bloody battlefield
Or crawl between tall grasses on enemy lines.

They lurk beneath the ground all over
And I stand there and wonder, and wonder, and wonder,
How people look and stare all day
At those names on the gravestones
But not taking it in, at all, in any way.

Meanwhile, I stood there, with a solemn expression,
Half of me listening to the tour guide,
The other half in pain.
All those soldiers who died, and all of those now fighting
They deserved our attention, our grievance.

But most did not listen
To the silent whispers of prayer and mourning.
I heard talk of a mall, a rumor, and
when we were eating lunch.

However, I never heard a single:
"Look at all of those gravestones. Every single one has a person under it."
Most were bored, and careless.
However, those people, my friends:
They are the ones with nothing to gain.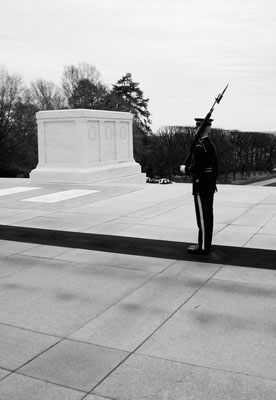 © Jordana W., Harmony, MN