Insanity of the heart.
May 11, 2010
What caused you to act.
What caused you to scream.
To destroy my heart and haunt my dreams.
A bitter smile farewell with a promise to return tomorrow.
Leaving me to drown in my own sorrow.
Every color of emotion glimmering in your eyes.
Trying to hide the pain with a fabricated disguise.

I'm dying on the inside, but nobody can see.
What is really going on, inside of me.
It's the battle of the century. One without an end.
For my shattered heart, my mind will fend.
Blood drips down to the tile floor, avoiding the parental that opens the door.
Everyone says they understand, that they've been through it all.
But who can recover from such a precarious fall.

I surrendered my heart to you. You held it high for a while.
Until it became to much for you, and it dropped to the tile.
So I sit here on my knees, trying to recover the pieces.
Only to find that some of them have disappeared into the creases.
So once again, I see I will never be whole.
You refuse to give me back a missing piece of my soul.

Darkness surrounds me now, I hear the taunting laughter of pain.
I must ask you. What did you gain.
Does it thrill you to hear my tears cascade down my cheek.
Or maybe the thought of my heart growing weak.
When I lay awake at night, wondering when it will end.
Wondering if you care, or if I'm just a friend.
The three bitter words that used to brighten up my day.
Now causing me to die until I slowly fade away.

So tell me Darlin
Was it good for you
Getting to break me and then saying I love you.
You tell me you'll me back, but I cannot believe the lies.
Alas because of me believing, I have suffered many cries.
Insanity is a state of mind, this I know is true.
But I'm only insane because of you.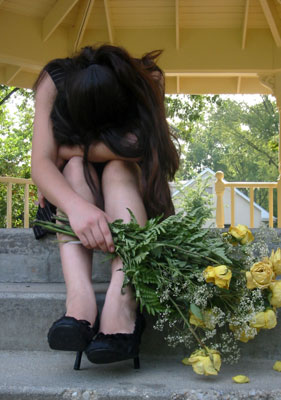 © Martha V., Morton Grove, IL