Tree's Can't Talk
June 27, 2010
Bright and sunny,
the day full of promises and love.
Naïve I fly through the air,
on the wings of a dove.

The brown trees whisper softly,
Look towards the North.
Approaching was a tall man,
blue eyed, full of worth.

Gasconade foreign in his dictionary,
the trees let me know.
He cares not about love,
But to marriage, he'll never say no.

Tall, lean, perfectly sculpted,
the trees laugh, he's all yours!
He'll speak his mind, take you straight
to his thoughts. No detours.

I can't help but to take another look,
the wind revealing his face.
Truly scarred, barren of heart,
from some cold northern place.

His eyes are brown,
Dishonesty is in his walk,
Stupidly I frown,
Remembering trees can't talk!

Eerily dark but moonlit
the day full of promises broken,
The lies of man's wit
and the toll of love, too high a token.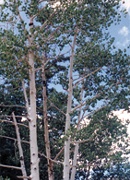 © Bethany D., Philadelphia, PA