My kind of love poem
August 25, 2010
He sleeps, he eats, he breaths
but he is not alive
just living
The more he tries to hide his emptiness
the deeper it becomes
like standing at the bottom of the grand canyon
and trying to fill it with an ocean
you swim until your arms and legs give
just as you reach solid ground again,
your head slips underwater
you sink.
you stare at the surface
getting further and further
oh but you were so close..
your heart tries to pound it's way out of your chest
your lungs ache for air
but there is none where you're going
you gasp anyway
stinging salt water fills your stomach and your lungs
comes back out your throat and floats up
bubbles.
You Are Drowning.

She is everywhere
the girl you pass in the street
who is too old for
pink ribbons in her hair
reminds you of her
you can still taste
her pink tangerine lips
on yours
as you touch the curve of her hips
in a smooth cream rose petal
and see her bright shinning smile
on the face of a sunflower
sad eyes in a summer dress
catch yours
a wisp of vanilla floods your senses
like her perfume when you're buried
soul deep in her skin
you can't take it anymore
so now a girl is undressing in your bedroom
your bed could use a secret
but can your heart take it
you're swimming in a sea of sheets
digging a hole too deep
you lie awake
as she falls asleep
afraid to close your eyes and dream
but the aching for her love
is tearing at your seams
a stranger's touch has stirred it
a faint hum of her laugh dances through your memory
You've Drowned.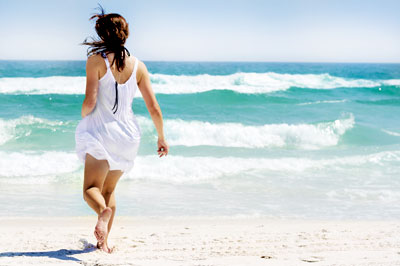 © Rebecca B., Marietta, GA